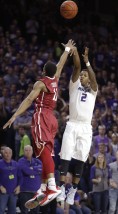 Marcus Foster in his first game after a three-game suspension scored 14 points, none more important than the last three from his final shot as he nailed a three-point basket with 3.4 seconds left to lead Kansas State to a 59-56 victory over 17th-ranked Oklahoma and bring to an end the Wildcats longest losing streak in a decade Saturday night at Bramlage Coliseum.
The Sooners who came into the game riding a five-game winning streak, jumped out to an early 9-4 lead and maintained a small advantage on the scoreboard throughout the first half before K-State closed the gap and trailed just 28-27 at halftime. Foster, who returned to action along with Malek Harris whose suspension also ended Saturday made his first appearance off the bench with 14:06 left in the first half and drew an ovation from the large crowd. Just one minute and seven seconds later he brought them to their feet with a three-pointer and it was a sign of things to come.
After OU took a 35-29 lead two minutes into the second half, the Wildcats surged ahead by as much as 50-43 on the strength of a 21-8 run that spanned 10 minutes and it appeared for a time that K-State would win the game going away. However, the Wildcats then went cold from the floor and Oklahoma took advantage with a 13-6 run to tie the game at 56-56 with 1:29 left. Both teams missed shots on their next trips down the floor and that included a missed jumper by the Sooners' Jordan Woodard with one minute remaining.
K-State having spent its last timeout at that 1:29 mark had no choice but to run time off the clock….a chance to win seemed to go by the boards when Jevon Thomas missed a layup with 22 seconds left but Wesley Iwundu pulled down a huge offensive rebound allowing K-State to run more time off. Then just as he did in the teams' first meeting this season in Norman on January 10, Foster sank the Sooners again with another key trey. After a timeout, Thomas fouled Isaiah Cousins to prevent him from attempting a game-tying shot. After missing the first free throw, Cousins deliberately missed the second one but he missed badly as he fired the ball at the padding below the goal not even coming close to the net and K-State was able to run out the clock and secure its first win since January 24.
K-State managed to win this game despite shooting a paltry 26 percent from the floor, the 10th-lowest shooting percentage in school history largely because they balanced the bad statistic out by making 28 of 36 free throws including 13 of 15 in the first half. Nino Williams joined Foster as the only other Wildcat in double figures with 13 points while Buddy Hield led Oklahoma with 14 points, Woodard added 13 and TaShawn Thomas had 10 for Lon Kruger's squad.
Kansas State (13-13, 6-7) will be on the road for the next two games, both in the state of Texas beginning on Wednesday with a tilt at TCU. The Horned Frogs earned their second conference win by knocking off 21st-ranked Oklahoma State 70-55 on Saturday. Tipoff is set for 7 p.m.
Stay connected to all things KSU on the go just text EMAW to 88474
For full video wrap-ups, including analysis, highlights, coaches & player interviews of K-State Football & Basketball check out PowerCatGameday.com