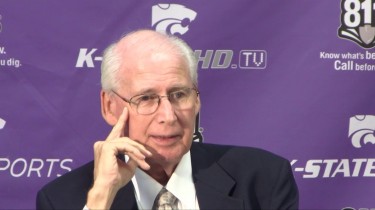 By Ryan Lackey, K-State Athletics
Kansas State head coach Bill Snyder released the Wildcats' 2015 recruiting class Wednesday with the announcement of 24 student-athletes who plan on joining or have already joined the K-State football program.
The 2015 signing class is made up of 23 players from the high school ranks, as well as one community-college player. Of the group, five are currently enrolled at K-State and will participate in April's spring practices, which culminate with the Purple/White Spring Game on April 25.
"As we all know by now, it will be two or three years before we can accurately assess the quality of this or any recruiting class. Hopefully we have assessed the skills and intrinsic values of this year's class accurately, but time will tell. Including greyshirts from last year's class, we have three of these student-athletes presently in classes and participating in our out-of-season workouts. Each of them have demonstrated a commitment to becoming the best person, student and athlete possible.
"As always, we greatly appreciate the high school and community college coaches, faculty members and administrators through the state of Kansas and across the nation who have received our coaches and program so very graciously. I am especially proud of and thankful for the Kansas State faculty, dean of students, director of finance, athletics support staff, athletics director and president for their assistance in conveying to these young men the great support services, education and caring relationships provided by our University."
This year's class boasts 12 players on defense, 11 offensive players and one listed as an athlete. The class is made up of five apiece on the offensive and defensive lines, four linebackers, three defensive backs, three wide receivers, two running backs and a quarterback.
As is the case in years past, the Wildcat coaching staff scoured the nation for talent as Kansas State's class of 2015 is represented by nine different states, while securing the boarders and keeping a majority of the top Kansas prospect in state. Eight of the 24 in this year's signing class hail from the state of Kansas, while five come from Georgia, three are from Texas and two apiece are from Missouri and Oklahoma.
Defensive end Aulelio Olomua (ah-LAY-lee-oh oh-low-MOO-ah) from Mesa Community College is the lone community-college transfer in the class. It is the fewest in one class since K-State also signed only one in 1992 (Percell Gaskins).
In addition to the 24 players in the 2015 class, K-State awarded scholarships to eight former walk-ons over the course of the last six months. Punter Nick Walsh went on aid in January, while defensive lineman Will Geary will be on aid beginning in the fall. In September, long snapper Dalton Converse, quarterback Joe Hubener, place kicker Ian Patterson, defensive back Dylan Schellenberg, linebacker David Smith and wide receiver Stanton Weber were put on scholarship.
Stay connected to all things KSU on the go just text EMAW to 88474
For full video wrap-ups, including analysis, highlights, coaches & player interviews of K-State Football & Basketball check out PowerCatGameday.com