By Chris Kutz, K-State Athletics Communications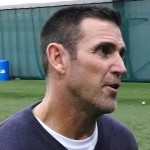 K-State Baseball Coach Brad Hill (file photo)
With the weekend weather forecast calling for the potential of significant snowfall and below-freezing temperatures in the Manhattan area, the K-State baseball team has canceled its home-opening series against Eastern Illinois and will instead head west to take on Cal at Evans Diamond in Berkeley, California for a three-game set Saturday through Monday.
The first game of the series on February 28 will be at 6 p.m. PT while the March 1 and 2 games will have a first pitch of 1 p.m. PT and 10 a.m. PT, respectively.
After last weekend's games against four different Pac-12 schools in Arizona, K-State (4-4) will face another school from the conference and take on the Golden Bears (5-3) for the first time since a neutral-site game in South Carolina during the 2011 season. The Wildcats have only played at Berkeley once in the all-time series against Cal, losing 5-1 in the 2008 season opener. Overall, K-State is 0-4 against the Golden Bears.
For fans who already purchased tickets for this weekend's home series against Eastern Illinois, the tickets can be redeemed for a future K-State home game this season, based on availability.
K-State's home opener will now be on Friday, March 6 against Santa Clara at 3 p.m. The Wildcats and Broncos will play a three-game set that also kicks off eight consecutive home games for K-State.