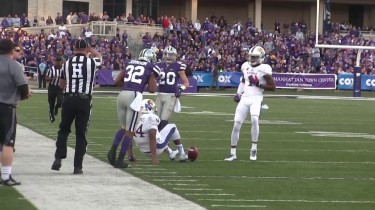 Kenny Lannou, K-State Athletics
Wide receiver Tyler Lockett, quarterback Jake Waters and linebacker Jonathan Truman were named Kansas State's 2014 offensive and defensive MVPs, while Matthew McCrane and Lockett took special teams MVP honors as the Wildcat football program held its annual awards ceremony Sunday afternoon at McCain Auditorium on the K-State campus.
"On behalf of our players and everyone in our program, thank you from the bottom of my heart for each and every person that supports our program and for those that are invested in our program, certainly our players, players' families, coaches, coaches' families, our administration, their families, fans, there are so many sacrifices made," head coach Bill Snyder said. "In this senior class, seven of them are captains, we've had tremendous leadership, probably as good of a senior class and leadership that I can remember, collectively, over a considerable amount of time. They are truly great teammates. These are young guys that not only care about each other as seniors, but they care about all the young people in our program; they care about their fans, they care about their student body. I think this group of young guys emulate the 'Wildcat 16 Goals for Success' better than any group that we've had. I appreciate them a great deal for that, and I am very grateful to them."
Arguably the greatest wide receiver in school history, Lockett broke 17 records at K-State, including the career marks for receptions, receiving yards and receiving touchdowns previously held by his father, Kevin. A 2014 NFF National Scholar Athlete, Lockett became the first player in school history to earn All-America honors every year while also being named the Big 12 Special Teams Player of the Year as both a junior and senior after a stellar career in the return game which included a nation-leading 19.1-yard average per punt return this season.
Waters broke the Kansas State single-season record for passing yardage in 2014 with 3,501 yards on 262-of-397 aim while tossing 22 touchdown passes. A Second Team All-Big 12 performer, Waters also set the school records for season and career completion percentage at 65.99-percent and 64.08-percent, respectively. The Council Bluffs, Iowa, product rushed for 484 yards and nine touchdowns in 2014, including 100-yard games against Iowa State (138) and Texas Tech (105).
Lockett and McCrane were honored on special teams for their play in 2014. A redshirt freshman, McCrane took over kicking duties in the fourth game of the year and ended the regular season connecting on 18-of-19 attempts, including all 11 from 30 yards or longer. His 94.7-percent conversion rate ranked tops nationally this season and second in school history, while his 18 field goals rank fifth in K-State history. A Freshman All-American, McCrane shattered the K-State freshman record for points scored in a season with 95, nearly 40 points more than Martin Gramatica's previous record of 56 in 1994.
Defensive end Ryan Mueller garnered Defensive Front Seven Player of the Year honors for the second straight season after another stellar campaign in 2014, while B.J. Finney earned Offensive Lineman of the Year honors. Mueller finished the season with 40 tackles, including 11 for loss and six sacks. The First Team All-Big 12 performer finished his career with 20 sacks to tie for sixth in school history, 11.5 of which came in 2013 when he tied the single-season school record and was named the Big 12 Defensive Lineman of the Year. Finney finished his four-year career at K-State by starting all 52 games, including the final 51 at center. He was a four-time All-Big 12 selection – one of just three players in school history to earn four straight all-conference honors – while also picking up All-America designations 2014.
On the academic side, Academic All-Big 12 selection Stanton Weber received the program's Scholar-Athlete award for the second straight season, while the collection of 67 Big 12 Commissioner Honor Roll members and Big 12-leading and school-record 29 Academic All-Big 12 selections were also honored.
The Wildcats finished the 2014 season with a 9-4 record, including a 7-2 mark in Big 12 play to finish third in the league. K-State concluded the season ranked 18th in both the Amway Coaches' and Associated Press top-25 polls, finishing in the top 20 for the 13th time in school history and third time in the last four years.
Looking ahead to the 2015 season, spring practice will get underway in the next few months, and the 2015 Purple/White Spring Game will be held on Saturday, April 25, at Sporting Park in Kansas City, Kansas, the award-winning facility and home to Sporting Kansas City. Tickets for the game, which kicks off at 3 p.m., go on sale to Ahearn Fund members February 23 and to the general public on March 2.
2014 K-State Football Awards
Overachiever Award – Sam Sizelove
Red Raider Award – Dalvin Warmack and Logan O'Dea
Scholar-Athlete Award – Stanton Weber
Purple Pride Award – Weston Hiebert
Ken Ochs Courage Award – Joseph Bonugli and Matt Kleinsorge
Kevin Saunders Never Give Up Award – Laton Dowling and Dylan Schellenberg
Nancy Bennett Memorial Award – Dante Barnett and Taylor Godinet
Anthony A. Bates Memorial Award – Curry Sexton
Joan Friederich Award – Randall Evans and B.J. Finney
Jim "Shorty" Kleinau Award – Jonathan Truman and Drew Liddle
Most Improved Defensive Player – Jordan Willis and Will Geary
Most Improved Offensive Player – Curry Sexton
Outstanding Defensive Front Seven Award – Ryan Mueller
Outstanding Offensive Lineman Award – B.J. Finney
Special Teams Most Valuable Player – Matthew McCrane and Tyler Lockett
Defensive Most Valuable Player – Jonathan Truman
Offensive Most Valuable Player – Jake Waters and Tyler Lockett