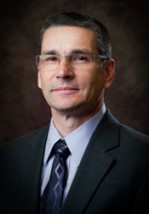 Representatives for K-State are speaking out following the controversy that arose from a highly-redacted open records response regarding e-mails discussing the state budget. Vice President for Communications and Marketing at K-State Jeff Morris said the messages, which were sent between Governor Sam Brownback and KSU Institute for Commercialization President Kent Glasscock, are not subject to the open records act per state statute.
"In this case, the discussions were comments that people made during the generation of the Governor's budget proposal," said Morris. "The budget proposal is done and then submitted in a public document vetted by everybody."
Due to the fact that the official proposal is available for examination by the public, the preliminary discussions, such as those between Brownback and Glasscock, are not protected by the open records act.
"There's a state law that says we don't have to produce those messages when people are going through that formation process," Morris said of the redaction.
He added that the process of deciding what to black out in such a request is based on input from K-State's attorneys and although they try to be as responsive and transparent as possible when issuing such responses to the media, they also must respond with the university's best intentions in mind.
Morris also discussed Brownback's recent decision to end legal protection against discrimination for LGBT individuals and its effect on the university, saying K-State has a different set of rules in play regarding equal opportunities.
"We have our own non-discrimination policies as a university, and the actions that were taken in Topeka didn't affect us," he said.
The university's acceptance of individuals from all walks of life is an important stance for the school, as Kansas State has increased efforts to promote diversity in recent years. Morris added that he believes as diversity increases on campus, the university experiences more success as a whole, with this year's freshman class ranking the highest academically-achieving group in the history of the institution.
"The researchers will tell us that could be causative or it could just be coincidental, but we don't think it's just a coincidence that the more diverse people we bring in, the better we get as a university," he said.
Regardless, Morris maintained it's important to remember that Kansas State's values extend far past the boundaries of campus.
"It goes beyond just the people here," he said. "It's our K-State family, and we really want everyone to feel comfortable here for who they are and what they believe."