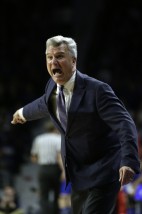 Nigel Johnson scored 17 points to lead three players in double figures and Wesley Iwundu stole an in-bounds pass and drove for what proved to be the game-winning dunk with 16 seconds left as Kansas State overcame a 12-point second half deficit to defeat 12th-ranked Iowa State 70-69 on Senior Day Saturday at Bramlage Coliseum for the Wildcats second win over a Top-15 team in the last six days.
Early on it appeared K-State was experiencing a hangover from its 70-63 win over eighth-ranked Kansas on Monday night as the Cyclones came out on fire knocking down eight three-pointers in the first half on their way to a 40-33 halftime lead led by Georges Niang's 12 points. Before settling for the seven-point advantage, Iowa State led 35-21 before Johnson got the Wildcats back on track with five points in 22 seconds on a three-pointer and then a layup off a steal.
Twice in the second half it appeared the Cyclones, coming off a disappointing home loss to Baylor on Wednesday were ready to move on as they built up two 12-point leads. After leading 49-37 with 17:31 left, they watched K-State cut the lead to 49-45 with 14:46 remaining before Dustin Hogue momentarily quieted the Bramlage Coliseum crowd with a three-pointer.
Another trey by Hogue put the Cyclones up 60-48 with 10:38 left before the Wildcats began their furious comeback. Trailing 64-55, K-State chopped the deficit down two points at 64-62 with just under four minutes remaining on a Johnson layup. Then with the Wildcats facing a four-point deficit Justin Edwards tied the score with a pair of layups, the second one coming with 59 seconds left.
Then after K-State got a stop, Iwundu scored a layup and was fouled with 43 seconds left to give the Wildcats a 68-66 lead. However, Iwundu missed the free throw for a three-point play allowing the Cyclones to grab a one-point lead with a three-point play on the other end by Monte Morris with 27 seconds to play.
Then a controversial call appeared to give Iowa State a chance to add to their lead when they were awarded a timeout as Naz Long looked like he was travelling while on the ground with the ball. However, on the in-bounds pass Iwundu stepped in front of the ball, drove the lane and dunked it to give K-State a 70-69 advantage with 16 seconds left on the clock.
After calling its last timeout Iowa State worked for a potential winning shot but K-State having a foul left to give stopped play with one with 4.8 seconds left and the the Cyclones last attempt was well off the mark giving K-State its first back to back wins since a four-game winning streak in mid-January.
Also scoring in double figures for K-State were Edwards with 16 points and Iwundu with 11. Niang led Iowa State with 21 points, Morris added 15 and Jameel McKay poured in 11.
The comeback by the Wildcats was their largest since 2011 and the 46 points in the paint were a season high. Iowa State which had an excellent chance to tie Kansas for first place in the Big 12 earlier in the week now trails the Jayhawks by two games after KU rallied to beat Texas 69-64 Saturday in Lawrence.
Before the game, K-State honored its three seniors Johnson, Thomas Gipson and Shawn Meyer with an emotional ceremony.
Kansas State (15-15, 8-9) will close out the regular season on March 7 with a road game at Texas. Tip-off in Austin is set for 3 p.m.