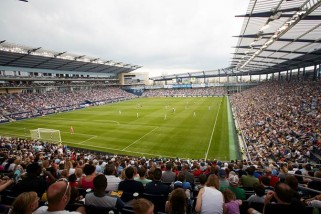 By Kenny Lannou, K-State Athletics
Kansas City, here come the Wildcats!
With construction of the new Vanier Football Complex presenting logistical and safety issues for both the K-State football team and fans to hold the annual spring football game at Bill Snyder Family Stadium, Athletics Director John Currie announced today that the 2015 Purple/White Spring Game and surrounding activities will be held Saturday, April 25, in Kansas City's Sporting Park, the award-winning facility and home of Sporting Kansas City.
Currie said Sporting Park was the most reasonable and creative solution for K-State to play its spring game while construction continues at Bill Snyder Family Stadium and will allow the Wildcats, fans and the entire University community a unique opportunity to enjoy one of the most state-of-the-art sporting facilities in the country in addition to a day full of festive entertainment and activities. In addition to the game, the day will be filled with numerous activities for fans and families of all ages including pre-game hospitality opportunities, interactive games for children and appearances from Willie Wildcat, K-State cheerleaders and also the Pride of Wildcat Land Marching Band.
"Kansas City is a crucial part to President Schulz's K-State 2025 vision of advancing the university into the ranks of the nation's Top 50 public research universities, and when we first discussed the potential of moving our spring game away from Bill Snyder Family Stadium due to safety concerns, the first place that came to mind was Kansas City and Sporting Park," Currie said. "It will present a great opportunity for us to bring Kansas State University to the KC area, and we look forward to having a packed house on April 25 and have our fans Paint Kansas City Purple."
In order to move the contest to an outside venue and be permitted to host prospective student-athletes, the department received a one-time waiver from the NCAA due to the ongoing construction at Bill Snyder Family Stadium and safety concerns.
The game will kick off at 3 p.m. on April 25.
"We are excited about the opportunity to host a spring reunion of the Wildcat family in the greater Kansas City metro region," said K-State President Kirk Schulz. "We'll be rolling out the purple welcome mat for our many alumni, fans and friends. This is a great chance to showcase the university in one of the most dynamic and exciting districts in the region."​​
Tickets for the game, which go on sale to Ahearn Fund members February 23 and to the general public on March 2, range from $5-$175 with multiple seating locations and options available. Seats in the South Stand and Member's Stand can be purchased for $10 ($5 for K-State students or groups of 20 or more), while East and West Stand options are available for $15 and $25 each, as well as a 4-pack ticket option for just $50. Shield Club tickets are $50 each and provide access to the connecting lounge with a la carte premium food and beverage options, while Field Club seats range from $150-$175 and provide pre-game club access including complimentary food and beverage service throughout the game. Details regarding pre-game hospitality options for Ahearn Fund members will be emailed in the coming weeks.
Other suite availability and access to the Boulevard Club is available for Ahearn Fund Members, who are asked to contact the Ahearn Fund at 888.232.9074 by February 23 to receive more details and be placed on the suite waiting list.