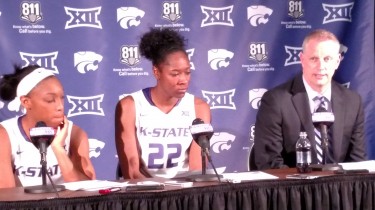 Rayven Brooks scored 26 points and Texas Tech recovered from squandering a double-digit second half lead with a 74-68 overtime victory over Kansas State on Sunday afternoon in Big 12 Women's Basketball action at Bramlage Coliseum.
The Lady Raider who went 0-18 in the Big 12 last season were coming off a huge win in their last game against Iowa State during which the three-point shot was their strength and in this game Tech used it to jump out to an 18-11 lead with 11:14 left in the first half. K-State would then use a 10-2 run to close the gap to 21-20 over the next five minutes before trailing at halftime 30-26.
The Lady Raiders again got off to a hot start in the second half an appeared to be on their way to an easy victory when their lead grew to 53-40 with 9:39 left to play. However the Wildcats began their comeback when Jessica Sheble completed a three-point play and that sparked a 9-0 run to make the score 53-49 with 5:58 left in regulation. Tech then led 57-50 with 4:02 left before another Wildcat surge put them into the lead at 61-60 with one minute remaining on a layup by Haley Texada.
K-State had a chance to pad the lead when Kindred Wesemann went to the free throw line with 35 seconds left but she only made one of two shots and that gave the Lady Raiders a chance to either tie or win the game. Amber Battle tied the score on a jumper with 16.2 seconds left in the half and the Wildcats were unable to convert on the other end sending the game into overtime.
Battle's bucket gave the Lady Raiders new life as they scored the first nine points in the extra session on their way to their fifth Big 12 win.
Joining Battle in double figures were Dayo Olabode with 16 points while Battle added 14. Three K-State players were in double figures led by Breanna Lewis' 19 points followed by Ashia Woods with 14 points and Texada with 11. Sunday's loss ended a three-game home winning streak for the Wildcats who had won four of their previous five games.
Kansas State (15-9, 5-8) will be on the road Wednesday night when they travel to Austin to face Texas. The Wildcats upset the then 16th-ranked Longhorns on February 4th at Bramlage 66-57. Tipoff is set for 7 p.m.
Stay connected to all things KSU on the go just text EMAW to 88474
For full video wrap-ups, including analysis, highlights, coaches & player interviews of K-State Football & Basketball check out PowerCatGameday.com