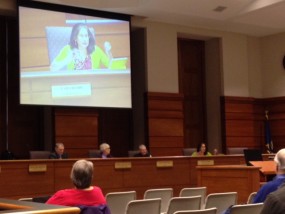 While Riley County Law Board members were agreeable on most matters Tuesday, a final item drew some heated remarks from two of the members. Board Chair Robert Boyd criticized fellow Board Member Wynn Butler for asking the group's Executive Secretary to add a couple of items to the agenda.
The items requested by Butler via email involved the time of the meetings and a small presentation regarding the law board's composition. Boyd chastised Butler for addressing the agenda items via email to the Executive Secretary rather to him as Board Chair or the Police Director. He told Butler in his roles as a military officer, Mayor, and City Commissioner he should know procedure–and that what he was done was "inappropriate."
Butler countered he figured the secretary would share the matter with the rest of the group and that it was just a request, not an order. Butler did end up making a partial apology to RCPD officials, but stopped short of apologizing to Boyd.
The email has  been provided by Butler and follows:
Nichole: Here are the two items I would like to discuss at the next Law Board Meeting:1. Time of the meeting. I want to make a motion to change the time to evening for two reasons. We might get more citizen participation if the meeting were in the evening 530 or 630 PM. Second some of the members have full time jobs that conflict with the meeting time.
2. Attached is a small presentation of the Law Board composition. I want to review the material for the purpose of public education as to why we have the current members on the board. Second I would like to get each of the law board members on record, yes, no or no comment concerning following the state statue and appointment of true citizens at large.
Thanks. Wynn
###
The group Tuesday also agreed to have a work session type meeting on Friday, March 13th at four p.m.
Also during the Tuesday meeting, Riley County Law Board member Karen McCulloh wished Riley County Police luck when it comes to Fake Patty's Day event, even jokingly saying they'll pray for snow.The event will be March seventh this year, with social media notices already being circulated.
The student created event continues to be somewhat unpopular with Manhattan residents… but RCPD Captain Josh Kyle briefed the law board on preparations on what has become an annual celebration–with one change–more patrol farther norther of Aggieville, north of Ratone.
However, Kyle says there was a 50 to 60 dip in calls from residents this past year, possibly due to inclement weather reducing the crowd size. Board member Wynn Butler actually compared the initial events as bordering on the well-known Sturgis, South Dakota motorcycle rally which now draws hundreds of thousands. But he thinks numbers are manageable at the Fake Patty's Day event now. Board member Usha Reddi admits the event has a mind of its own, but says while you can't stop people from doing certain things you can definitely make it safer.
Five law enforcement agencies that assisted RCPD in a support role in recent years have agreed once again to help out this year.
General orders regarding personnel programs for the Riley County Police Department were approved Tuesday, but not unanimously. The Riley County Law Board voted six to one, with board member Barry Wilkerson, who also serves as Riley County Attorney, the dissenting vote. Wilkerson indicated he still wanted to see the physical agility test, adding there are other things that may be just as important for a police officer. RCPD Captain Tim Hegarty told Wilkerson there are remedies being considered for that, with a new way of hiring that will ensure officers can read, write, speak well, and do well on a court stand when needed to testify.
Board members did approve RCPD Director Brad Schoen's contract following an executive session and goals for 2015, including improvement of traffic safety, reducing crime, and increasing public satisfaction. One progress indicator that was discussed briefly was a jump in the number of domestic violence case filed when compared to the year prior.