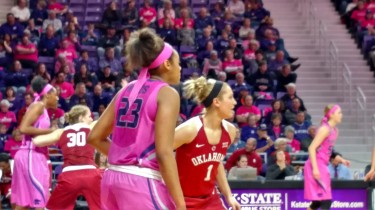 Peyton Little scored 30 points on the strength of eight three-pointers and Oklahoma dominated the glass as the Sooners defeated Kansas State 73-64 Saturday night in the Play 4 Kay game at Bramlage Coliseum.
K-State used a 7-0 run in the first five minutes of the game to jump out to an early 9-4 lead before OU came roaring back with one of its own to lead 11-9. The Wildcats then held a brief two-point lead midway through the first half before Oklahoma used its strong rebounding and textbook shooting to grab the lead back. After the Wildcats tied the game at 23 on a pair of Haley Texada free throws with 1:59 left in the half, the Sooners ended it with a 7-2 run to lead 30-25 at halftime.
Oklahoma was so dominant on the boards that at halftime they had more offensive rebounds (10) than K-State had total rebounds (9).
Oklahoma began the second half with a 16-4 run to open up a 46-29 lead and take control of the game. K-State clawed back with a few rallies but never drew closer than nine points and that would be the final margin of victory for the Sooners who have won 15 of the last 16 meetings.
The only other Oklahoma player to join Little in double figures was Kaylon Williams with 13 points. Three Wildcats were in double figures led by Ashia Woods with 16 points and 14 apiece from Haley Texada and Kindred Wesemann.
Kansas State (15-11, 5-10) will next be in action on Wednesday for round two of the Sunflower Showdown with KU. The Wildcats won the first meeting 58-52 on January 11 at Bramlage. Tipoff at Allen Fieldhouse is set for 7 p.m.
Stay connected to all things KSU on the go just text EMAW to 88474
For full video wrap-ups, including analysis, highlights, coaches & player interviews of K-State Football & Basketball check out PowerCatGameday.com