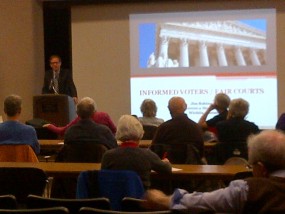 "Informed Voters/ Fair Courts" was the title of the presentation that took place in the Little Theatre at the KSU Student Union Saturday morning.  The League of Women Voters partnered with the American Association of University Women to present a discussion about the judicial selection process, as this is becoming a popular topic in Kansas.
After some brief recognitions, the featured speaker was introduced:  Attorney, James Robinson.
Robinson is a partner with the Hite Fanning and Honeyman L.L.C. law firm in Wichita.  He is an award winning lawyer that has extensive background with the judicial selection process.
Robinson began his presentation by sharing a short story of a dad and a daughter.  This story was the background of the Brown vs. Topeka Board of Education case, which is celebrating it's 60th anniversary.  He went into detail about the 11 page decision that banned school segregation.  He also shared another anecdote about the Triple Play of 1956.
He then moved onto the court systems, and spoke about "fair and free" courts.  He mentioned the attacks leveled at courts for pure political gain and how politics has begun to impact the court system.
"According to attacks, judges are simply legislators in black robes", said Robinson.
Robinson spoke about the Kansas Supreme Court selection process vs. the Kansas Court of Appeals selection process, which then segwayed into the possible future changes and judicial review.
"The whole concept of judicial review has gotten courts  into a lot of trouble", commented Robinson.