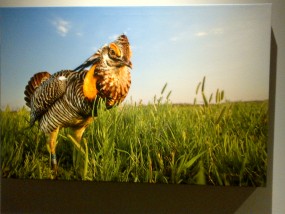 Save the Last Dance is the new temporary exhibit that will be displayed on the second floor of the Flint Hills Discovery Center.  The exhibit will open to the public on Saturday and will run through May 17th.
KMAN got a sneak preview of the exhibit Wednesday morning, during a media blitz.
The display features images taken by award winning photographer, Noppadol Paothong, who will be visiting the discovery center in March.  The photographs showcase the greater prairie chicken, and it's related species.
Paothong is the author of the book Save the Lase Dance, A Story of North American Grassland Grouse.  This book will be available for purchase in the discovery center gift shop.
Besides the wide array of photographs, visitors can view the interactive prairie chicken display.  The video features facts and footage of the prairie chicken booming in action.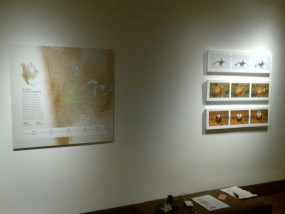 "You'll find that what we see on the horizon of the Flint Hills is a very precious habitat that needs to be preserved", commented Flint Hills Discovery Center Director, Fred Goss.