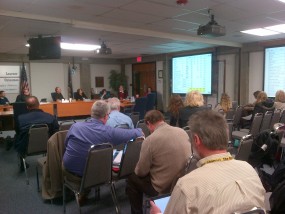 Three different items were featured on Wednesday evening's Manhattan Ogden USD 383 school board winter retreat.  Although all vastly different, all were intertwined when looking at the big picture.
The discussion that prompted the largest attendance was the classroom space utilization agenda item.  Teachers and principals showed up to hear the presentation, made by Associate Superintendent, Robert Seymour.
Seymour focused on elementary and middle school numbers.  Room totals in elementary schools are typically between 19-26 students.  He broke the numbers down into different schools, and shared overall capacity figures.
Currently 3,420 students attend elementary schools within the district, which is 90% capacity.  Target enrollment is 3,767.  When cutting Ogden Elementary out of the equation, the number increases to 92% capacity.  Seymour said it's important to note that this is capacity without changing any of the room purposes or altering room utilization.
There are 40 students attending alternate schools other than their assigned residence schools.  144 students are out of district transfer students, a third of which are high schoolers.
As far as addressing the problems, Superintendent, Bob Shannon stated "we don't believe redistricting is an answer for next year.  It will not fix the issue at this time."
School board members also viewed the Manhattan Urban Area Comprehensive Plan for 2035.  Lastly, Director of Business Services, Lew Faust shared an update on the 2015-2016 budget process.  He stated there aren't many changes from the board's previous meeting.