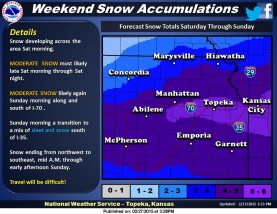 (Courtesy of National Weather Service, Topeka)
THE NATIONAL WEATHER SERVICE IN TOPEKA HAS ISSUED A WINTER
WEATHER ADVISORY FOR SNOW…WHICH IS IN EFFECT
FROM 7 AM SATURDAY TO NOON CST SUNDAY.
TIMING…SNOW WILL BEGIN SATURDAY MORNING AROUND 7 AM AND WILL
CONTINUE THROUGH NOON ON SUNDAY. THE SNOW MAY BE MODERATE AT TIMES
LATE SATURDAY MORNING THROUGH EARLY SATURDAY EVENING, AND THEN
AGAIN SUNDAY MORNING.
TOTAL SNOW ACCUMULATIONS OF 3 TO 6 INCHES. SLEET MAY MIX IN WITH
THE SNOW ALONG AND SOUTH OF INTERSTATE 35. EXPECT LITTLE TO NO SLEET
ACCUMULATIONS.
WINDS…WINDS WILL BE SOUTHEAST AT 5 TO 15 MPH.
IMPACTS…SNOW WILL ACCUMULATE ON AREA ROADWAYS MAKING ROADS
SNOW-PACKED AND SLIPPERY. MOTORISTS SHOULD USE EXTREME CAUTION IF
TRAVEL IS NECESSARY.