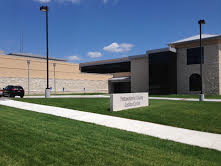 A status hearing was held Thursday, Feb. 19 regarding a Pottawatomie County murder case. Christopher Arand, 36, of Belvue appeared in front of Judge Jeff Elder to discuss his mental competency in connection with a Nov. 10 case in which he is accused of murdering his uncle, Larry Arand.
According to an affidavit requested by KMAN following the incident, Arand reportedly hit his uncle in the back of the head several times with brass knuckles before suffocating him with a plastic bag. At the hearing, the defense attorney stated that he had received a report from Larned State Hospital indicating possible decomposition of Arand's mental health and requested a sanity evaluation.
After hearing this request, Judge Elder stated that the court will consider the assessment as evidence of Arand's psychological state. If the defendant is found competent enough to stand trial, they will initiate the proceedings by holding a preliminary trial set for Friday, March 6 at 9:30 a.m.