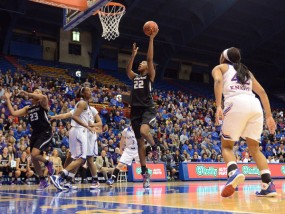 (Photo Courtesy Kansas State Athletics)
Haley Texada scored 20 points, Ashia Woods added 12 and Breanna Lewis set a new single season blocks record as Kansas State used a 15-7 run to end the game to defeat arch-rival Kansas 55-48 Wednesday night in Big 12 Women's Basketball action at Allen Fieldhouse in Lawrence.
K-State appeared ready to pull away owning a 40-32 lead with just over seven minutes remaining when the Jayhawks used a 9-0 run to lead briefly 41-40 before the Wildcats turned things back around in their favor and earned the seven point win which was their sixth in conference play and the most in three years.
Lewis' five blocks gave her 88 for the season and 132 for her career which puts her fourth on the all-time list. Chelsea Gardner was KU's leading scorer with 15 points while Natalie Knight added 11.
The sweep over KU was the first since the 2011-12 season for K-State and the second consecutive win at Allen Fieldhouse.
Kansas State (16-11, 6-10) will travel to Ft. Worth to play TCU on Saturday. The game will mark the return to the Metroplex of K-State head coach Jeff Mittie who had coached the Horned Frogs for several years before becoming the Wildcats coach this season. Tipoff is set for 2 p.m.