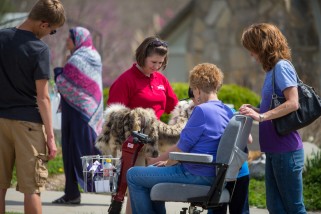 Sunset Zoo released its attendance numbers for the year of 2014. These numbers, however, are significant to the zoo.
They welcomed a record 79,269 visitors last year. Sunset Zoo has been a part of the Manhattan community for 82 years. Zoo director Scott Shoemaker says he and the Zoo staff are "blown away by this growth," as the increase represents 6 percent up from 2013, and a 26 percent increase over the last five years. The zoo staff credits the attendance to the recent facility improvements,which include the addition of the Nature Exploration Center, an entryway and an education facility, as well as the first two phases of the John Woodward Memorial Gibbons Exhibit and the James W. Carpenter Veterinary Clinic.
Sunset Zoo says 63 percent of guests were from around the Manhattan area, and roughly 25 percent of guests visited from outside of the state of Kansas. According to the zoo, 2015 visitor numbers have also shown some promise, as warm-weather weekends have brought in over 3,400 guests. This number beats last year's attendance at this time by 1,500 visitors.