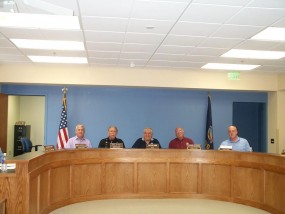 The Wamego City Commission will be addressing the Contractor's licensing issue again. At Tuesday's meeting, Contractor Richie Chrest presented a petition to the City Clerk to modify the existing contractor's licensing resolution requirement on rental property. According to City Manager Merl Page, this was a referendum ordinance and the Governing Body can review and pass the new ordinance or the petition can be placed on a special election ballot in 90 days. Page said the issue will be brought up at the next Commission meeting.
In other business, the Commission approved closing Elm street between 7th and 8th street on April 17th to accommodate the Central Elementary Annual Spring Festival. A motion was made and carried by a vote of 5 to 0.
The Wamego City Commission was updated on the upcoming Wicked Marathon. Marathon coordinator Doug Sellers said there were currently 125 entries, but is expecting about 150, representing 12 states. An entry from Anchorage, Alaska will be the most distant. The Wicked Marathon will be on March 28th, with the half-marathon beginning at 7:30 a.m., the full-marathon beginning at 8 a.m, and everything finishing at 2 p.m in front of the OZ Museum. Sellers asked for the closure of old Highway 24 (Military Trail Road) to local traffic only during the event. City Manager Merl Page said he will work through the logistics with the Police and Fire Departments.
The Commission also granted authority to the City to begin contract negotiations with Schwab-Eaton for proposal work on upgrades to 4th street from Walnut to Columbian Road. In addition, a Public Forum was scheduled for March 24th from 6 to 7:30 for review of the Sidewalk Master Plan. Page said he'd like to handle this like an Open House, so the public can view visuals and ask questions before final adoption. The Public Forum/Open House will be held in the City Commission Room.