By Chris Kutz, K-State Athletics Communications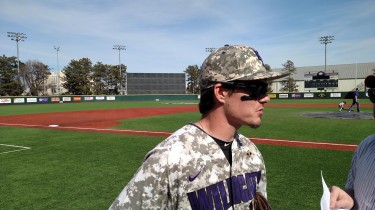 Behind four hits apiece from Shane Conlon and Tyler Moore, the K-State offense bested its season-high in hits set on Saturday by tallying 15 on Sunday to help lead the Wildcats to a 10-3 win in the series finale of a three-game sweep of Santa Clara at Tointon Family Stadium.
K-State (7-7) continued its hot-hitting carried over from the previous day by posting double-digit runs and hits for the second straight game. The Wildcats' sweep of the Broncos (7-8), its first three-game sweep since March 14-15, 2014 vs. Northern Colorado, saw them outscore, 31-9, and out-hit, 37-17, the visitors.
"I was proud of the guys today," said K-State head coach Brad Hill. "You win big yesterday, and it's easy to come out flat today. We didn't come out flat, and that starts on the mound. Corey Fischer gets a lot of credit, too, for putting up four zeros (on the scoreboard) to start it out. It allowed us to get in the flow a little bit."
Conlon established a season-high with his four hits, going 4-for-5 with a double, triple, two RBIs and three runs scored. Moore, meanwhile, set a new career-high in hits by also going 4-for-5 with two RBIs. The Coffeyville Community College (KS) transfer finished the series with seven hits and eight RBIs.
Conlon and Moore helped form a quartet of Wildcats with multiple hits as the pair were joined by Danny Krause and Steve Serratore, who each had two safeties. The hits for Krause helped him extend his season-best hitting streak to 11 games while Serratore lengthened his on-base streak to 14 games, tied with Conlon for the longest this season.
K-State now enters the upcoming week with its record back at .500 and carrying its longest winning streak, three games, of the young 2015 season. The Wildcats had not won three consecutive games since they captured 12 in a row from February 28-March 19, 2014.
"It's always good to be home, but you're also concerned about where your kids are going to be at, particularly from a confidence level," added Hill after the Wildcats bounced back from last weekend's sweep at the hands of Cal. "Our kids just played good baseball (against Santa Clara). We had good composure (all weekend)."
The Wildcats scored all the runs they needed in the first three innings, starting with two runs in the second. Serratore, after leading off the frame with a single and later advancing to third, eventually scored on a throwing error by Santa Clara pitcher Kevin George when the left-hander tried to pick off Moore at first base. The error, one of four by the Broncos in the game, also moved Moore to third base, where he was driven in by Ethan Klosterboer's single into center field.
In the third, K-State added two more runs to make it 4-0 when Conlon scored on a delay steal from third base following the throw down to second during Krause's steal attempt. Krause was later cashed in on Moore's single through the left side.
K-State doubled its offensive output before Santa Clara could get on the board by plating four more in the fourth. Nine Wildcats went to the plate in the inning, with a one-out error on a groundball hit by Tyler Wolfe helping extend the frame. Clayton Dalrymple (single), Conlon (triple), Krause (double) and Serratore (double) each had run-producing hits in the crooked frame.
The Broncos scored their three runs in fifth when K-State starting pitcher Corey Fischer, who faced one above the minimum in his first four innings, allowed the first four batters to reach base via two walks, a hit by pitch and a groundball RBI single through the right side. Reliever Jackson Douglas spelled Fischer with the bases loaded and induced a double play to the first batter he faced that allowed Kyle Cortopassi to score. Santa Clara added another run with a bunt RBI single by Grant Meylan.
Douglas finished the day by throwing two innings of one-hit baseball to help him earn his first career win.
Douglas was also one of three K-State relievers who were not responsible for any runs, joined by Levi MaVorhis (2.0 IP) and Lucas Benenati (1.0). Benenati tossed a perfect ninth to seal the sweep.
K-State capped its scoring in the sixth when it answered the Santa Clara runs with RBI doubles by Conlon and Moore. The Wildcats had four doubles on Sunday, giving them 13 extra-base hits in the series.
The Wildcats return to action with a two-game midweek series against Creighton at Tointon Family Stadium from March 10-11. Right-hander Kyle Halbohn will get his first career start when he takes the mound against the Bluejays in the opener.