By Chris Kutz, K-State Athletics Communications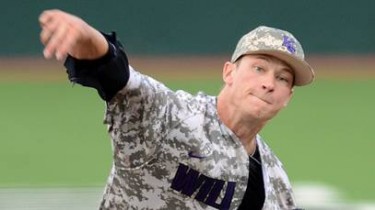 NACOGDOCHES, Texas – With the help of a strong starting performance by Kyle Halbohn on the mound backed up by key relief pitching from Bryce Ward, the K-State baseball team held onto its advantage gained in the sixth inning and beat Stephen F. Austin, 3-2, on the road at Jaycees Field on Tuesday.
Making just his second start in a Wildcat uniform, Halbohn led K-State (11-9) by allowing just one run, via a solo home run in the second, over a career-high six innings to earn his second win of the season. The right-hander, who had not pitched more than three innings in a single outing this year, also struck out three while not walking any.
"We've been looking for someone to step forward," said K-State head coach Brad Hill. "Our pitching had to pick us up tonight. We just weren't good offensively, unfortunately."
After allowing the solo homer to the Lumberjacks' Dan O'Neill in the second, Halbohn retired the next nine batters in a row to keep Stephen F. Austin (6-16) off the board. The streak was snapped in the fifth when the redshirt junior allowed a single to Trevor Posednik. With Holden Holsomback at the plate, Halbohn proceeded to pick off Posednik at first and then strike out Holsomback to end the frame.
K-State's offense responded to Halbohn's pitching in the sixth when Clayton Dalrymple reached with a hit by pitch and Shane Conlon hustled for a double on a 3-2 pitch hit through the left side to move both him and Dalrymple into scoring position. Steve Serratore then stepped to the plate and drove a ball off the center field wall for a two-run triple to make it 2-1 K-State. Serratore went on to score the eventual game-deciding run later in the inning on a squeeze bunt by Tyler Moore.
"We just pressed offensively after three bad at-bats in the first inning," said Hill. "Big long swings, guys just trying to do too much and being uncertain. It boiled down to putting together one good inning and getting one good swing from Serratore. Then we get the squeeze down, but the credit goes to our pitching and defense."
With Halbohn out of the game, the Lumberjacks jumped on K-State relievers Jackson Douglas and Lucas Benenati in the seventh inning to put the game-tying run 90 feet from home. Douglas surrendered a one-out solo homer to Kyle Thornell that cut the Wildcat lead in half, 3-2, before an infield single and walk forced the Wildcats to bring in Benenati. The right-hander struck out pinch-hitter Eric DeJesus, and Moore made a throw down to third on strike three in an attempt to get the lead runner, Brandon Smith, on a double steal. Smith avoided the tag at third, putting two runners in scoring position for Holsomback, who was hit by a Benenati pitch to load the bases. Ward was then summoned and induced a groundout by pinch-hitter Tyler Boxwell to end the threat.
Ward pitched a scoreless bottom of the eighth to finish his day with just one hit allowed in 1 1/3 innings pitched.
Brandon Erickson threw an unblemished ninth to earn his second save in as many opportunities this season. The right-hander worked around a one-out single to close out the Wildcats' third one-run win of the year.
K-State was out-hit by Stephen F. Austin, 8-4, as no Wildcat had more than one base hit. Dalrymple, though, did reach base safely three times while his one hit, an infield single in the third, extended his hitting streak to a career-high 10 games. The junior was also hit by a pitch twice.
Serratore added a walk to his triple to reach twice while Max Brown drew two of the five walks issued by Stephen F. Austin in the game.
Lumberjack reliever Travis Stone took the loss after allowing the three runs on two hits and a walk in the sixth.
K-State and Stephen F. Austin will close out their two-game midweek series on Wednesday with a 6:30 p.m. matchup. The Wildcats will start Mark Biesma while the Lumberjacks have yet to announce their starting pitcher.