By Chris Kutz, K-State Athletics Communications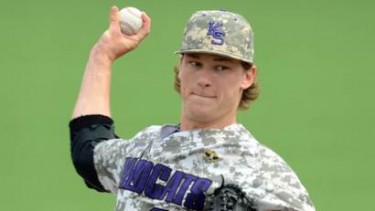 Four two-out RBIs by the K-State offense backed up Nate Griep's three-hit, seven-inning quality start to lead the Wildcats to a 4-1 series-opening win against Santa Clara on Friday at Tointon Family Stadium.
Recording his third consecutive quality outing, Griep notched his second win of the season for K-State (5-7) after holding the Broncos (7-6) to one run while striking out six. In each of his four starts this season, the redshirt sophomore has fanned six or more, a mark he did not reach in 15 appearances (10 starts) during the 2014 season.
"Nate competed really well again today," said K-State head coach Brad Hill. "He did a good job of using his breaking ball."
Griep faced runners on base in each of the first five innings, with a leadoff walk to start the fourth coming around to score on a groundout and give the Broncos a 1-0 advantage. The right-hander settled in, though, and retired 12 of the final 13 batters he faced, a stretch that included three of his half-dozen strikeouts being registered in his last three frames of work.
After Santa Clara jumped on the board, K-State wasted little time striking back as Tyler Moore and Max Brown had a pair of RBI-producing base hits with two outs in the bottom half of the fourth. With runners on first and second and facing two strikes, Moore laced a single into center field to score Shane Conlon and tie it up at 1-1. The next batter, Brown, was also up against two strikes, but the senior drove a ball into the right-center field gap to score both Steve Serratore and Moore and give K-State a two-run lead.
"We've been talking about how the good teams will cash in with two outs," said Hill. "We just had to shorten down swings and not get selfish in those situations. It was big."
Carter Yagi delivered his lone hit of the game in the seventh when he came through with a two-out RBI single that plated Tyler Wolfe, who reached with a double, to make it 4-1.
"Really proud of Carter after his first three at-bats didn't go his way and all of sudden, he steps up and gets a really big hit," said Hill. "That one extra run really gives you a boost of confidence."
A tandem of Bryce Ward and Brandon Erickson out of the K-State bullpen shut the door on Santa Clara, with Ward throwing a no-hit eighth and Erickson notching his first career save with an unblemished ninth. Erickson hit a batter with two outs, but the junior struck out Kyle Czaplak looking to end the game.
Santa Clara's starting pitcher, Jacob Steffens, struck out six and walked none in his six innings of work, but he took the loss after allowing three runs on five hits.
K-State and Santa Clara will meet for game two of the three-game series on Saturday at 2 p.m. Right-hander Colton Kalmus will take the bump for the Wildcats and face the Broncos' Peter Hendron.