By Chris Kutz, K-State Athletics Communications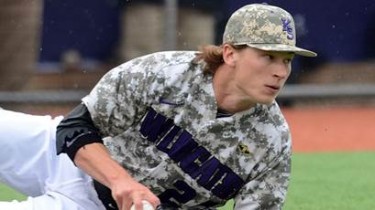 BERKELEY, Calif. – The K-State baseball team fell behind early, as much as 5-0 after four innings, as the Wildcats dropped the second game of the series at Cal, 6-2, on Sunday at Evans Diamond.
The Golden Bears (7-3) scored four of their five runs off K-State starting pitcher Colton Kalmus (three earned), who threw a season-low 3 1/3 innings in his third appearance of the season (second start). The right-hander surrendered a run in the first and second innings before being chased from the game after allowing a leadoff single, sacrifice bunt and hit by pitch in the fourth.
The offense of K-State (4-6), meanwhile, took until the top of the fourth to register a base hit into the outfield while three of its six hits occurred to start the fifth inning.
"It all started with that we weren't ready to play today – and that's on me," said K-State head coach Brad Hill. "We were flat, which was totally different than the last five games. We are not a very good ball club when we don't bring intensity, I can tell you that. Everyone was flat, on the field and in the dugout, and (Cal) took advantage of it."
A night after going 5-for-14 with two outs, the Wildcat bats were hitless in six at-bats with two outs while producing one hit with runners in scoring position. K-State was only able to put runners in scoring position in the fifth and ninth innings, the two frames in which it scored. The lone tally in the last inning came on a Cal wild pitch.
Cal, on the other hand, struck when it mattered, going 4-for-11 with runners in scoring position. It started in the first when, following a double play moved leadoff hitter Aaron Knapp to third base, Brett Cumberland delivered a single to plate Knapp. Kalmus issued a base on balls to Chris Paul after Cumberland's single, but the redshirt sophomore induced a groundout to halt the first.
In the second, a one-out throwing error by shortstop Tyler Wolfe put Cal's Preston Grand Pre on second base. Knapp was then dealt a walk before Devin Pearson hit an RBI single to plate Grand Pre from second.
The Golden Bears registered a three-run fourth, keyed by an RBI single by Knapp and two-run double by Pearson, both hits off K-State reliever Kyle Halbohn. Pearson was thrown out at third on a relay from center field during his double, though, to help stop the momentum.
K-State surrendered the sixth and final Cal run in the seventh when Mark Biesma threw a wild pitch that allowed Lucas Erceg, who reached with a leadoff single, to score from third base.
Kalmus took the loss, his first of 2015. In addition to the three earned runs allowed, he walked two and struck out one.
"(Kalmus) wasn't sharp," said Hill. "He was throwing balls out, balls in – he just didn't have really good command today. He's a competitor, but at the same time, he just didn't have good command of what he was doing."
Cal starting pitcher Ryan Mason limited the Wildcats in his seven innings of work. The right-hander scattered five hits while walking one and striking out one to earn his second victory of the season.
The K-State offense did not strike for its first run until the fifth inning when Danny Krause, Steve Serratore and Tyler Moore strung together three straight singles to make it a 5-1 deficit. However, back-to-back groundballs, a fielder's choice by Browning and double play by Wolfe, halted the promising start to the frame.
For the second straight game and sixth time in the last seven games, the Wildcats scored a run in the ninth inning. After Shane Conlon walked and pinch-hitter Taylor Anderson and Moore were issued two-out free passes, Cal reliever Chris Muse-Fisher threw a wild pitch into the dirt that allowed Conlon to score and Anderson and Moore to advance one base. However, Max Brown struck out for the second time in his two at-bats to end the game.
K-State will look to stave off the Cal sweep in the series finale on Monday at 10 a.m. PT. Right-hander Corey Fischer will start for the Wildcats and face Cal's southpaw, Matt Ladrech.
Below is the recap from the first game played late Saturday night.
BERKELEY, Calif. – Despite a quality start and a career-high eight strikeouts by redshirt sophomore Nate Griep, the K-State baseball team dropped the series opener at Cal on Saturday, losing 4-2 at Evans Diamond.
Turning in his second straight quality start, Griep worked through 6 1/3 innings, surrendering six hits and three runs, but suffered his first loss of the season as the K-State offense could not build upon its early 1-0 lead after the first inning.
The Wildcats (4-5), who fell behind in the fourth inning when Cal (6-3) cashed in a leadoff double for a 2-1 advantage, put the game-tying run in scoring position in three consecutive innings from the fifth through the seventh. Each time, though, K-State, which went 5-for-14 with two outs, came away scoreless as it finished the game with one run-producing hit in nine opportunities with runners in scoring position.
Cal's starting pitcher, Daulton Jefferies, limited the Wildcats to just one run on six hits and one walk while striking out five in seven innings. The sophomore improved his record to 2-1 on the season.
"(Jefferies) did a great job of elevating pitches on us," said K-State head coach Brad Hill. "We didn't do a good job of taking those pitches, laying off of them, or just getting good swings off of him. We had two-out RBI situations about four or five times, and we didn't score in any of them except for one of the last ones (in the ninth inning). Cashing in on two-out RBI situations is how you win games and be a great team, and tonight, we just didn't do that."
Carter Yagi and Danny Krause each scored one of the two K-State runs while also collecting three hits. The three-hit effort for Yagi was his second in his last four games as he has 12 hits over his current six-game hitting streak. For Krause, the three hits were a career-high and give him back-to-back multi-hit games.
Yagi scored his run in the top of the first after he led off the game with an infield single off Cal first baseman Chris Paul's glove. Following a sacrifice bunt by Jake Wodtke that moved Yagi to second, Shane Conlon drove the fellow senior home with a double into center field. It was Conlon's team-leading seventh RBI of the season, all of which have been registered over the last six games.
Krause crossed home in the ninth when pinch hitter Taylor Anderson worked a bases-loaded walk after a full count. Krause started the short-lived rally by singling into left field to commence the ninth. Clayton Dalrymple, who reached base safely three times in the game, and Yagi also contributed singles in the final frame.
The Wildcats were forced to chip away at a three-run deficit following a two-run inning for Cal in the seventh. Griep started the inning by inducing a bunt groundout by Brian Celsi, but the next batter, Aaron Knapp, chased the right-hander, who finished the game throwing 102 pitches, from the game with a bunt single. Reliever Jordan Floyd entered the contest and surrendered back-to-back singles and a wild pitch to allow the Golden Bears to seize a 4-1 lead.
Griep had four of his eight strikeouts over the last 10 batters he faced, giving him a team-best 21 on the season. His three walks also matched his season-high set in the season opener on February 13 vs. Iowa while of the six hits allowed, three were of the infield variety, including two on bunts.
"(Griep) didn't have great stuff, but he competed and gave us an opportunity to win," said Hill. "You could see he wasn't sharp; he didn't have good command of his secondary stuff, but his competitiveness kept us in the game."
The Wildcats and Golden Bears will reconvene for the second game of the series on Sunday at 1 p.m. PT/3 p.m. CT. Right-hander Colton Kalmus will make his second start of the season for K-State and face Cal's right-hander Ryan Mason.