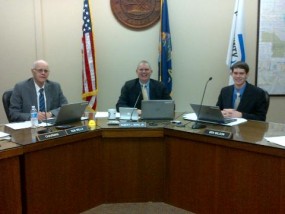 Riley County Police responded to 142 reports and made 46 arrests over the Fake Patty's Day weekend.  County EMS received 66 calls for service, 50 of which were related to the holiday.  These were just a few of the numbers presented during Monday's Riley County Commission meeting.
Although RCPD Captain, Josh Kyle did not have any specific numbers regarding the types of arrests and incidents, he did share a few interesting stories.
On midnight on Fake Patty's Day, Kyle said he personally responded to a complaint of traffic congestion and a large number of people at Britt's Garden Acres, off of Scenic Drive here in Manhattan.  Kyle called Riley County Fire Chief, Pat Collins to look into the matter, as he was sure there were fire codes being violated.
Collins then informed Kyle of alcohol being served on the premises.  A citation was issued for an open saloon and the alcohol was removed by officers.
At around three o'clock that morning, officers received a call requesting assistance at Britt's, as people were beginning to leave the location and they suspected fights may occur.  The person was advised that officers were busy responding to Fake Patty's Day related calls, so they were unable to assist them.
Shortly after, several 911 calls were received indicating several rounds of shots being fired at Britt's.  Multiple officers did respond to this call.  They found around 30 shell casings on the ground, which are said to be from two different handguns.  This matter is still currently under investigation.
While police numbers for Fake Patty's appeared to go down slightly, calls for service for EMS crews went up.
County EMS Director, Larry Couchman informed commissioners they responded to 66 calls for service, 50 of which were related to the holiday.
For unusual incidents, Couchman mentioned a person who fell out of a bar window and suffered from minor head trauma.
The nice weather seemed to contribute to more outdoor-related trends.  Couchman said there was an increased number of house parties, but roof parties in particular.  After researching the matter, Couchman found there is no current city ordinance against being on the roof.  But he said he found it concerning to see around 20 people on a steep roof drinking and partying.  He said he hopes area leaders will look into this issue further.
Out of 125 total patients in the emergency room, 36 of them were related to Fake Patty's activities.  Four of these individuals were admitted to the ER and two were taken to trauma centers.
The highest blood alcohol level reported throughout the duration of the weekend was .361.  This is four and a half times the legal limit.
To put these numbers into perspective, Couchman compared the statistics to Country Stampede-which is a five day event in June.  Over the course of the five day period, only 13 ambulance transports were needed last year and only 39 patients were seen and treated in the ER.