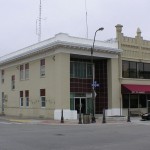 The Wamego City Airport is looking very good these days according to Airport Chairman John Hupe, who reported to Wamego City Commissioners the new runway with all the markings made the Airport look better than ever. He added the City crew took over all the mowing at the Airport, which added to the look. On the business side, Hupe said all the existing hangars are full, and there's a plan to build two T-hangars, because there are more people wanting hangar space than is available. Commissioner Cliff Baughman said he'd never seen the Airport look better.
In other business, the Kansas Sampler Festival will be opening is about six weeks for the second two-day run in Wamego. The planning committee of Michele Crisler, Bunny McCloud and Betsy Riblet gave their second update to the Commission after City Manager Merl Page complimented the committee for all the work they've done to make the Sampler Festival such a success. Crisler reported there will be more local entertainment, additional food vendors and all the tents are filled. The 2015 Kansas Sampler Festival is May 2nd and 3rd in the Wamego City Park.
The Wamego City Commission approved several ordinances. At Tuesday's meeting, City Manager Merl Page introduced the Fuel Cost Ordinance, which changed the name and definition from 'fuel cost adjustment' to 'energy cost adjustment'. Page said the change will show what the consumer sees on their billing statement, but it does NOT change the rate.
In addition, Page introduced the ordinance governing the franchise fee that customers of Wamego electric service see on their billing statement, which will be a rate change, but a reduction. He said the normal rate is a 4 percent calculation on gross revenue added for payment in lieu of tax. With the adoption of the new ordinance, that rate is reduced to 3.75 percent of gross revenue. Both ordinances passed by a vote of 5 to 0.