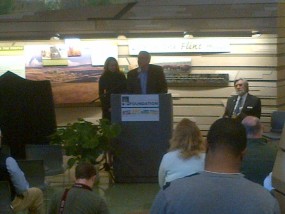 The Flint Hills Discovery Center Foundation was the recipient of $750,000 Wednesday morning.  The gift was presented by Bob Krause and Marty Vanier, who have a long history of philanthropy in supporting Kansas State University and the Flint Hills region.
While Krause is a native of Chicago, Illinois, Vanier is a Kansas native.  Both commented on the center's immersive experience theater.  Vanier said the property they own allows them to live the experiences they saw in the Tallgrass Prairie film room in real life everyday.
After Vanier and Krause presented the check, they also announced their intentions to rename the theater.  The new name will be "Horizon Ranch Flint Hills Immersive Experience Theater".  Once these announcements concluded, the couple received a standing ovation.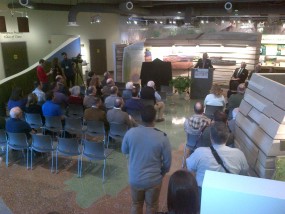 The $750,000 gift will span throughout a five year period.  $500,000 of the gift will be earmarked for the City of Manhattan.  A semi-endowment fund, for upkeep of the center's theater, will be established with $220,000.  The remaining $30,000 will support the foundation in fundraising efforts.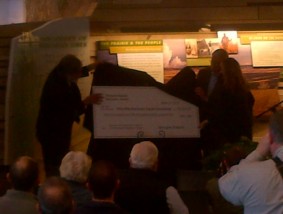 Foundation President, Bruce Sneed shared a few remarks during the event, as well as Mayor Pro Tem, Karen McCulloh and Discover Center Director, Fred Goss.