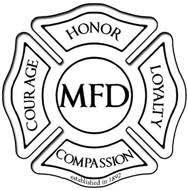 Shortly after 9 a.m. Friday, the Manhattan Fire Department was dispatched to 1104 Sunset Avenue, Kramer Dining Center on
the Kansas State University Campus for a report of a structure fire. Upon arrival, crews found light smoke showing from the structure.
The fire was handled with the First Alarm assignment and was contained within 20 minutes. A total of 15 firefighters
responded on 5 fire apparatus with the last units clearing at around 11:00 a.m.
Kramer Dining Center was occupied with staff preparing for the return of students after spring break. Loss is
estimated at $7,000 to contents and $1,000 to the structure. The owner is the State of Kansas. The fire cause is
due to an undetermined malfunction with the dryer.