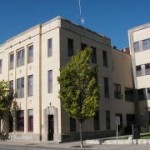 Formed in 1996, the Eureka Valley Drainage District was put into place in the hopes that the residents in the area would be able to complete projects to address the drainage issues some businesses were facing.  This district was discussed during Thursday's Riley County Commission meeting, as County Counselor, Clancy Holeman requested the district be terminated.
Holeman informed commissioners the district has not done anything outlined within the original petition to form the district.  "I would submit that this district has done even less than what is described in the petition if that's possible.  It's certainly not a problem, but they have not done any projects.  It's not to criticize those who formed it.  But if the district is going to have projects, everyone who's in it is going to pay for it," stated Holeman.
Holeman presented a notice of a public hearing for the dissolution of the drainage district.  The commission approved to have Commission Chair, Ron Wells sign the document.  The public hearing will be held on March 23rd during the regularly scheduled commission meeting.