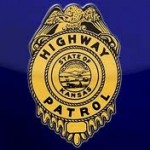 A Manhattan man was taken to a Topeka Hospital following an accident on I-70 Saturday afternoon. Charles Davis, 53, was taken to Stormont Vail following the accident on westbound I-70, 1/4 mile west of Wabaunsee Road on I-70.
According to the Kansas Highway Patrol, Davis was driving a 2000 Pontiac Grand Prix eastbound and for an unkown reason left the road and struck the guard rail.
The accident was reported at 4:15 p.m. Saturday. Davis was wearing a seatbelt.