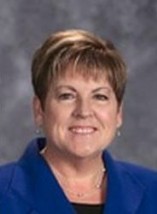 At a special meeting of the USD 378 board of education held on Monday night, the board voted to offer an interim superintendent position to Nancy Meyer.  Contingent upon contract approval, Meyer will begin her duties in mid-April and will serve through June 2016.
Meyer has a Liberal Arts Degree from Highland Community College and a bachelors degree in education from Emporia State University. She received her masters degree in administration from the University of Missouri in Kansas City.  She served as a high school principal in Baxter Springs, Herrington, and St. Marys.  Meyer completed her superintendent's certificate at Kansas State University and served as a superintendent at Marmaton Valley in Moran for four years and Holton for four years.
"Nancy Meyer possesses the qualities that we were looking for to move our district forward in the coming months," said Jennifer Wilson, board of education president. "The board of education looks forward to her leadership for our district."
Current Superintendent Brad Starnes announced intentions to resign early this year, with the board narrowly approving that resignation a short time later. Starnes will be the new Superintendent at USD 329 in Wabaunsee County, a district that includes schools in Alma and Paxico.