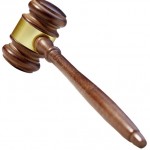 A Manhattan man charged with involuntary manslaughter will appear in Riley County District Court next month to face his preliminary hearing.
Ryan Routson was arrested for several charges including involuntary manslaughter, aggravated battery by DUI, and possession of methamphetamine and drug paraphernalia.  This was following an incident where Routson failed to stop at a stop sign on Tuttle Terrace back in May.  As a result of this, according to an affidavit released regarding the case, a stillborn baby was born to an unidentified victim on the night of the accident.
Routson appeared alongside his attorney, Britian Stites Tuesday afternoon.  Stites requested a two hour preliminary hearing, which was set for April 14th at 10 a.m.