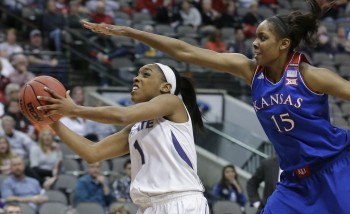 Haley Texada scored 18 points and Breanna Lewis added 17 as the Kansas State Women's Basketball team defeated their in-state rivals the Kansas Jayhawks 57-49 Friday night in the first round of the Big 12 Tournament at American Airlines Center in Dallas. The win was K-State's third this season over KU and second over the Jayhawks in the last 10 days.
The Wildcats jumped out to a 23-12 halftime lead and led by as many as 15 points in the early stages of the second half before a barrage of three-point baskets got Kansas back into the game and at a couple of junctures the Jayhawks actually had the lead before K-State recovered and was able to put the game away.
Kindred Wesemann chipped in with 13 points for the Wildcats while Chelsea Gardner led KU with 14 points
Kansas State (18-12) will face Baylor on Saturday at 1:30 p.m. in the Quarterfinals.