By Randy Peterson, K-State Athletics Communications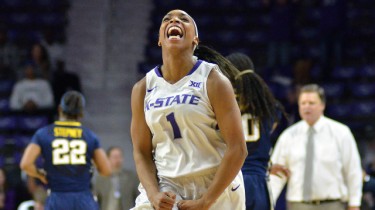 (Photo Courtesy Kansas State Athletics)
For the first time since the 2012-13 season, Kansas State women's basketball will make a postseason appearance as the Wildcats have accepted a bid to play in the 2015 Postseason WNIT and will host Akron in the first round on Thursday. The time for the game between K-State and Akron will be announced on Tuesday.
This will be K-State's fifth appearance in the Postseason WNIT and the first since reaching the semifinals of the 2013 WNIT. With K-State's bid into the Postseason WNIT, the Wildcats are one of eight Big 12 schools to earn a women's basketball postseason bid.
The Wildcats (18-13, 7-11 Big 12) will be opposed by the Zips (22-8, 12-6 Mid-American) on Thursday in Bramlage Coliseum. K-State and Akron will meet for the first time. The Wildcats are 18-4 all-time against teams from the Mid-American Conference, with the last meeting against a MAC program coming on March 28, 2013 against Ball State in the 2013 Postseason WNIT, a 60-48 K-State win.
Akron is led by senior guard forward Sina King. King, a 2015 All-MAC First Team selection, is averaging 20.3 points per game and 9.3 rebounds per game this season. Joining King in double figures is junior guard Anita Brown. Brown, a 2015 All-MAC Second Team recipient, is averaging 18.7 points and 6.8 rebounds.
The winner of the Kansas State-Akron game will play the winner of the Missouri-Northern Iowa matchup on either March 21, 22, 23 or 24 at a site to be determined.