By Kenny Lannou, K-State Athletics Communications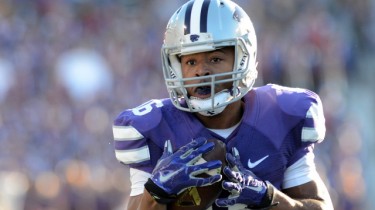 (Photo Courtesy Kansas State Athletics)
Kansas State all-purpose All-American Tyler Lockett has been named the winner of the 2014 Johnny "Jet" Rodgers National College Football Return Specialist Award, the award's committee announced Thursday.
Known as "The Jet Award," the honor was established in 2011 to recognize the best return specialist in NCAA Division I. The award is named in honor of Johnny Rodgers, a wide receiver and return specialist for the University of Nebraska who won the Heisman Trophy in 1972 and is a member of the National College Football hall of Fame.
A product of Tulsa, Oklahoma, Lockett led the nation in 2014 with a 19.1-yard punt return average, while he ranked third nationally in total receiving yards (1,515) and all-purpose yards per game (176.6). He led the Big 12 in all three categories, including the latter by more than 25 yards per game.
Lockett's 2,296 all-purpose yards in 2014 ranked second in school history to Darren Sproles (2003), while he also finished second to Sproles with 6,586 in his 47-game career. The school's career record holder for receptions, receiving yards and receiving touchdowns, Lockett finished second in school history to Jordy Nelson in single-season catches (106) and receiving yards.
Lockett was named a 2014 Consensus All-American as a kick returner/all-purpose player, while he is the school's first four-time All-American.
To be considered for the Jet Award, players must be a primary kick or punt returner for their team and be among the national leaders in return categories. They must also show leadership, courage, desire and respect for authority and discipline.
A selection committee consisting of Rodgers and football writers and broadcasters from around the country selected the 2014 winner. Previous winners are Ty Montgomery of Stanford (2013), Tavon Austin of West Virginia (2012) and inaugural winner Joe Adams of Arkansas (2011).
An awards ceremony for the 2014 Jet Award will take place April 2, in Omaha, Nebraska. Two-time Heisman Trophy winner Archie Griffin of Ohio State will be the keynote speaker.