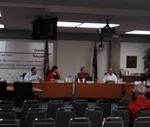 "If we don't support it, we are looking at a huge economic downturn.  People will lose their jobs.  It's a sad state of affairs."  This was a statement made by Manhattan Ogden USD 383 school board member, Darell Edie during a special school board meeting Wednesday evening.  His comments were in reference to the local option budget authority mail ballot election decision.
The item was approved last week on first reading.  The board decided to hold the special meeting for the second vote to ensure they would be able to make the timeline for the election specified by the state.
After board member, Curt Herrman made a motion to approve the resolution, several board members chose to share their comments about the matter.  All of the board members appeared to be in support of the LOB election, but many were frustrated it had to come to this point.
"It's unfortunate we have to go this direction", said Edie.  "At least we have this option though".
Board member, Dave Colburn commented on Governor Sam Brownback and his apparent push for private education.  "We have a governor who when he ran for election, if he had said this was his plan-he would not have been re-elected.  What's going on here is they're [Kansas legislature] trying to push people from public schools into private schools."
Ultimately, the board decided to approve the LOB election unanimously.  The mail ballot election is expected to take place in June.