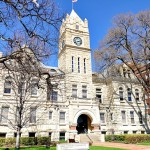 A Manhattan man facing 24 different charges appeared in Riley County District Court via web cam Tuesday afternoon.
Jeremy Spaur was arrested earlier this month, along with Nicole Holt, for different offenses including vehicle burglary and criminal damage to property.
Spaur appeared alongside his attorney-Larry McRell.  McRell explained to the court he has yet to receive any discovery on the case, so he wanted to set the matter for another status hearing.  Spaur will appear on March 24th at 1 p.m. for a discovery status hearing.
McRell also chose to address Spaur's bond, which is currently set at $75,000.  He asked that it be lowered to $10,000.
Prosecuting State Attorney, Barry Disney quoted a phone call from Spaur that was recorded, in which Spaur said "as soon as I'm out of here, I'm gone".  Spaur commented on this call, saying it was taken out of context and he's tired of being a criminal.
Judge William Malcolm denied McRell's request to lower the bond.