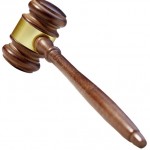 A jury trial was held for Howard Barrett in November, and after several Larned State Hospital mental examinations, he was finally sentenced on Wednesday afternoon in Riley County District Court.
Barrett was convicted in connection with the stabbing incident that occurred on February 14th in 2008, where Thomas James (48), of Clay Center, was found deceased by an apparent stab wound.  Reports indicate James was in Barrett's apartment for pest control work.
Barrett appeared in Judge David Stutzman's courtroom, alongside his attorney, Mark Dinkel.  Dinkel began by reviewing a few pre-trial and post-trial motions.  Some of the motions included references to acquittal and a new trial.
Prosecuting State Attorney, Barry Wilkerson asked the court to deny the acquittal.  He stated the court should uphold the verdict of the jury.
Judge Stutzman denied the acquittal and the motion for a new trial.
Statements were provided by a couple of James's family members, starting with his wife.  The letter she submitted stated there are no words to describe what the family went through.  But, it also said "we forgive him [Barrett] and pray that God forgives him as well".
James's sister also shared a statement, as she thanked the court and the Riley County Attorney's office for their help over the past several years.
Wilkerson shared his closing argument first.  "Barrett is not the only one sitting in the position he's in, nor is the James family the only ones sitting in the position their in", commented Wilkerson.  He mentioned that Barrett should never have been released from the Osawatomie State Hospital.
Wilkerson requested to have the aggravated sentence imposed, which is more than the standard.  This would be 123 months (or 10.25 years) in prison.  "We want to have him off the streets for as lengthy of a period of time he can have", said Wilkerson.
In Dinkel's closing argument, he mentioned a hospital setting might be the best option for Barrett.
With Barrett's lack of prior record, and his severe mental illness problems, Dinkel asked that his client be sentenced to 109 months (or just over nine years).  Dinkel also pointed out, Barrett was the one to call 9-1-1 during the day of the incident, as he was trying to get help for James.
Judge Stutzman began with a few comments.  "This crime occurred.  It didn't have to.  It occurred at a tragic intersection of events."
Stutzman mentioned James's wife's statement regarding forgiveness, calling it a "kind and forgiving moral statement".  "I don't think forgiveness makes it go away.  But, I do think it makes it easier to get along and move forward", said Stutzman.
Ultimately, Stutzman ordered Barrett to 123 months (10.25 years) with the secretary of corrections, including 36 months for post release.  Stutzman also waived all reimbursements because he felt it was probable Barrett would not be able to pay the costs back.
"This is not a situation where we say Mr. Barrett won't be in the community again.  It's likely he will be.  But he needs proper supervision", ended Stutzman.