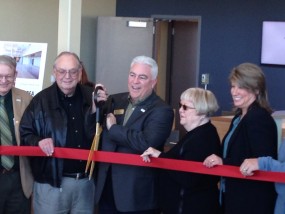 Manhattan Regional Airport welcomed the surrounding community and community leaders as they opened the first phase of their terminal expansion project currently underway.
The terminal will officially start service Monday night, and passengers will begin flying to and from the new building Tuesday morning. The new terminal is 20,000 square feet, which is almost 8,000 square feet larger than the old terminal. It is also decorated to represent the Flint Hills and give travelers more comfort than the previous terminal. Phase one accounts for only part of the expansion, according to Manhattan City Commissioner Rich Jankovich, who encourages area residents to check out the progress made.
"I truly believe that the excitement of flying out of this airport…. will really ramp up our passenger usage, which is still very strong from the beginning, from about five years ago to now."
Manhattan Area Chamber of Commerce President and CEO, Lyle Butler encourages curious Manhattan residents to come check out the new terminal, even if they aren't flying. Phase two of airport construction will include many more features for travelers, including a restaurant.