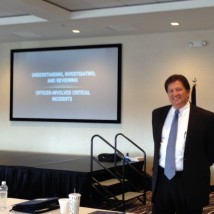 "To do the right thing for all people" and to "serve the community" are reasons police officers sign up for the job. That's according to Jonathyn Priest,  retired Lt. Commander for the Denver Police Department, who was one of the keynote speakers for the spring conference of the Kansas Division of the International Association for Identification, or KDIAI, held at the Bluemont Hotel in Manhattan.
However Priest also mentioned law enforcement officers are human and make mistakes. Priest shared with the more than 100 law enforcement and forensic science participants his experiences, saying that of nine Denver cases of officers killed in the line of duty, he was involved in seven of the investigations. However, he has been involved in more than 300 investigations of officer-involved shootings. He stressed the importance of a plan,  saying without a plan the "situaton's going to control us."
The retired Lt. Commander also discussed "transparency," admitting he wasn't sure what that was. But Priest says since 1978 Denver has published complete cases of officer involved shootings after the investigation is complete, but only about five people have actually looked at those reports, indicating people want to be able to know but aren't necessarily interested in actually knowing all the details in such cases.
Priest made references to Ferguson and Columbine shootings–stressing that "Supervisors need to supervise, Commanders need to command, and Chiefs need to chief"–saying all too often officials end up working the case directly rather than performing their administrative duties. He also mentioned the importance of effective communication with each other and told the group they can only collect the facts and can only report what the facts show. He admitted abuses of authority remain a concern and thorough investigation is a necessary, And the retired Denver Lt. Commander shared, "Sometimes we become the sacrificial lamb."
KDIAI President Cory Latham , who is a Senor Special Agent with the Kansas Bureau of Investigation and a team leader of the KBI's crime scene response team, told KMAN he was pleased with the more than 100 participants from all around the state and multiple law enforcement agencies. In addition to officer involved shootings, the group also talked about homicide investigations. Other presenters included Officer Derek Purcell of Wichita who was involved in two different officer involved shootings both from the shooter and victim perspective, Atchison Police Chief Mike Wilson, Ottawa Police Chief Dennis Butler, Angie Jones with the KBI, Justin Rankin with the Sedgwick County Regional Forensic Science Center, and Mark Bennet with the Sedgwick County Attorney's Office.