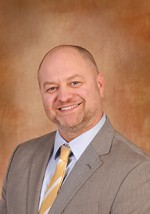 Pottawatomie County Commissioners passed a motion during their weekly meeting Monday, March 2 to approve a partnership with Shawnee County in an effort to seek state or federal funding for bridge rehabilitation in Northeast Kansas. Shawnee County Counselor Rich Eckert made an appearance at the commission meeting to propose backing for Willard Bridge, located on the Shawnee County-Wabunsee County line, for which replacement costs are currently in excess of $25 million.
"We're looking for partnerships with either KDOT or the Federal Government to help us replace that," said Eckert. "That's a very heavy toll for a county to absorb."
The proposed resolution would not require any funding from Pottawatomie County, but rather express support from the area to replace the bridge, which is regularly used by commuters in the region.
"One of the things we're doing to help us find that state partnership or that federal partnership is to make sure the decision makers know that it's a regional bridge," Eckert said. "It's not just one county."
The commissioners agreed to support Shawnee County's resolution to rehabilitate Willard Bridge, but proposed to do so in exchange for a similar potential partnership for Belvue Bridge, which has been on the Pottawatomie County rehabilitation list for some time now. Commission Chairman Pat Weixelman said the county was able to provide another temporary fix for the Belvue Bridge this past week, and hopes the new patching materials will be a more sustainable choice until the bridge can be properly refurbished.
"They did some of this last week with a material that we were discussing," said Weixelman. "We're going to try to see how this works out as far as the longevity of it. It looks like it might have a little longer life than what we've been using. It's a little more expensive, but it seemed like it went down a little easier."
In addition to discussing the bridge improvements, the commissioners took action on several business items Monday, including approving two bids from Larson Construction for the Elbo Creek Unit 4 and Nelson's Ridge Unit 3. The commission also opened bids on the Whispering Meadows Unit 3 and will present a recommendation for the subdivision at next week's meeting.
Other items on the agenda included an update from County Counselor John Watt who gave updates on efforts to reduce trash in residential locations throughout the county, as well as a report from Noxious Weed Director Tim Eisenbarth, who is working on chemical bids for the coming year.