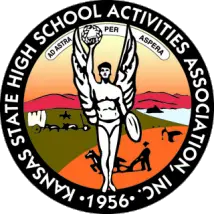 Making their first appearance in school history in a State Championship Basketball game, the Rock Creek Mustangs lost to Holcomb 63-55 in the Boys Class 4A Division II title game Saturday night at Hartman Arena in Park City.
Elsewhere in the Class 2A State Tournament held at Bramlage Coliseum on Saturday, the Girls State title went to Central Plains which defeated Moundridge 46-33 while on the Boys side, K-State commit Dean Wade was crowned a State Champion along with the rest of his teammates as St. John-Hudson downed Central Plains 49-45 preventing a Championship sweep by Central Plains.
Also in Girls action, Clay Center claimed third place in Class 4A Division II with a 51-39 win over Concordia in Park City.