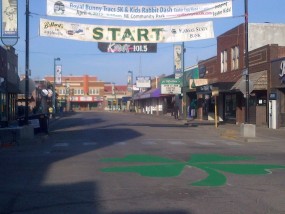 Saturday was full of events in the Aggieville/City Park area here in Manhattan.  The first activity was the "What Would Johnny Do?" event in the park.
Manhattan Parks and Recreation staff members hosted the event to answer questions about the City Park Master Plan.  This plan was adopted in 2006, but will likely be updated in the coming years.
The event concluded with a walking tour of the park.
The 37th Annual St. Patrick's Day Celebration was held in the Aggieville area.  This event has historically always been held prior to the actual holiday, which is on Tuesday this year.
At 10 a.m., the Shamrock two mile fun run and walk kicked off in Aggieville.  The St. Patrick's 10K Road Race began at 10:45 a.m.  Both races started and concluded in the same locations, but featured different routes, and all runners got a free t-shirt.
All of the awards for the races were given away in Triangle Park at 12:15 p.m.
The event concluded with the St. Patrick's Day Parade in Aggieville at 2 p.m.