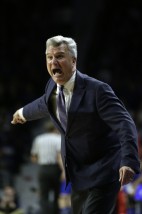 KANSAS CITY, Mo.(AP)– TCU rolled into the Big 12 tournament full of confidence, three straight losses to end the regular season doing nothing to hurt their frame of mind.
That confidence came in handy down the stretch Wednesday night.
Chris Washburn and Kyan Anderson scored 16 points apiece, and No. 9 seed TCU made enough stops on defense to beat Kansas State 67-65 for its first Big 12 tournament victory.
"We ended the season on a high note. We felt like overall we played well, even though we didn't finish our games," said Trey Zeigler, who added 15 points for the Horned Frogs. "We came in here and we knew Kansas State was a good team, and me and Kyan just tried to make sure we did everything we could do as senior captains."
TCU had built a 58-46 lead with 6 1/2 minutes left, but the Wildcats managed to trim it to 64-62 when Nino Williams converted a three-point play with about a minute to go.
Zeigler slashed to the rim at the other end and took a no-look pass from Anderson, getting fouled in the process. He calmly made both foul shots to give the Horned Frogs a four-point cushion, and Williams missed a long 3-pointer at the other end that put the game away.
The Horned Frogs, who improved to 4-0 against the Wildcats in postseason play, now get a date with top-seeded Kansas in the quarterfinals on Thursday afternoon.
"Premiere team in this league, one of the premiere teams in the country," TCU coach Trent Johnson said. "No basketball program has a more storied tradition than they do and we've got to find a way to compete at a high level in a short period of time."
Thomas Gipson had 16 points and Williams finished with 13 for the No. 8 seed Wildcats (15-17), who finished the season with a losing record for the first time since 2003.
It was a disappointing end to a frustrating season, one marked by a series of injuries to key players and off-the-court discord involving several others.
"It was a tough way to learn. We were close but we just didn't have it," Kansas State coach Bruce Weber said. "It's just a shame. We had enough tools to be better than we were."
The Horned Frogs went on a 16-2 run in the first half while Williams and Gipson were on the bench in foul trouble to build a 35-27 lead by the break. Washburn added a jumper right out of the locker room, keeping a heavily pro-Kansas State crowd silent.
That's when Kansas State made its first run of the game. Williams and Gipson did most of the work, but diminutive guard Jevon Thomas — briefly kicked off the team last week — also contributed a basket. Eventually, the Wildcats had crept within 41-39 with 16 minutes to go.
TCU regained control after Anderson knocked down a deep 3, taking advantage of a stretch in which the Wildcats went 2 for 16 from the field to push its lead back to 12.
That's when Kansas State made its second run of the game. Just about everyone got into the act, and the Wildcats cut the lead to 64-62 when Williams converted the three-point play.
The Horned Frogs simply made too many plays down the stretch.
"It's just disappointing it had to end like this," Gipson said. "It just seems like we always dig ourselves a hole."