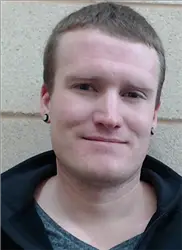 Police filed a report for aggravated criminal sodomy in the city limits of Manhattan on June 7th at approximately 3:45 p.m.  for an incident that occurred the night prior.
Officers found that a 19-year-old male and a 22-year-old male victim were involved in unwanted sexual activity with a male whom they had met and were staying with overnight.
On June 9th at approximately 2:10 a.m. police made an arrest in connection with the reported incident.  Jase D. Stanton (28) of 511 Fremont in Manhattan, was arrested for aggravated criminal sodomy.
This is the second sexual offense of this kind for Stanton, who made Kansas City headlines in 2009. Stanton resigned from his position as a field coordinator with Todd Tiahrt's U.S. Senate campaign, after again being accused of aggravated criminal sodomy and sexual battery.
Stanton was later convicted of the crimes and required to register as a sex offender.
Stanton is currently being held at the Riley County Jail in lieu of a $75,000 bond.