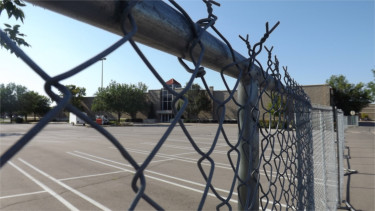 The old Sears wing at the Manhattan Town Center is set to be demolished and a new 13-screen movie theater — complete with a 575-seat IMAX theater and a restaurant — will take its place from the ground up.
Manhattan City Manager Ron Fehr told KMAN during Friday afternoon's City Commission briefing that the new Carmike theater is slated to open Fall of 2016 and will be a $15-20 million investment by the mall.
"They are bringing a new component to the downtown area," Fehr said.  "The IMAX is significant and will certainly be a regional draw for a theater of that nature."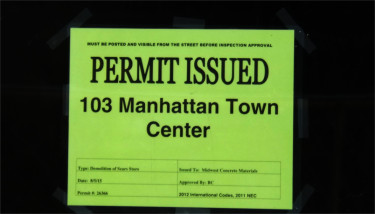 Right now, the only movie theater option in Manhattan is Carmike Seth Childs 12 west of town. For Manhattanites looking for the IMAX experience in the region, however, they have to travel to Kansas City or Wichita.
Fehr said he didn't know if the Seth Child location will remain open when the new theater is completed.
IMAX — which is an acronym for Image MAXimum and was developed by the Canadian company IMAX Corporation — has the capacity to record and display images of far greater size and resolution than conventional film systems.
Fehr said a demolition permit has been issued for the old Sears wing and that the Manhattan Town Center is asking to lessen it's lease payment, since the new theater will take slightly less square-footage than the Sears wing takes.
Fehr said the City of Manhattan, which owns the land Manhattan Town Center is on, will likely comply.
"The mall itself is planning a new southern corridor in conjunction with this that would create new entrances to the mall at the southeast and southwest portions of the mall," he said. "They are also looking at developing a new children's play area within the mall."
KMAN has been following theater developments since they first arose in January.
Along with the IMAX screen and restaurant, Fehr said five other screens be "dine-in" ready.
In a press release from Manhattan Town Center Marketing Manager Jeff Sutton, Paul Motta, the owner and operator of the Manhattan Town Center, said the new theater will attract people to the Little Apple.
"With every new tenant we bring in, our goal is to capture the style and spirit of downtown Manhattan and the Manhattan Town Center experience," said Motta, who is also the Chief Operating Officer of Urban Retail Properties, LLC. "By being the only location to offer both an IMAX Theater and Dine-in Theaters within 100 miles, Carmike and Urban Retail are bringing our goal of taking the movie experience in Manhattan to the next level."