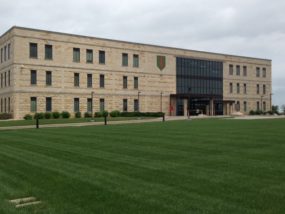 Fort Riley emergency services responded to a report of a vehicle off the road near Caisson Hill Road on post at approximately 6:05 pm Tuesday, and discovered the body of an unidentified person inside. Fort Riley police and Special Agents from the U.S. Army Criminal Investigation Command are currently investigating.
Processing the area will require the closure of Caisson Hill Road between E Street and the Ammunition Supply Point through September 23 (Wednesday). The closure will not impact access to Irwin Army Community Hospital.
Fort Riley authorities are not releasing any further information at this point to protect the integrity of the investigation. More information will be provided as it is available.