By Kenny Lannou, K-State Athletics Communications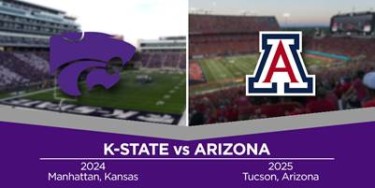 (Photo Courtesy Kansas State Athletics)
Following the recent addition of Stanford to K-State's future football schedules, Athletics Director John Currie has announced that the Wildcats have reached an agreement to play a home-and-home series with Arizona of the Pac-12 Conference in 2024 and 2025.
The series with Arizona's Wildcats begins with a game in Manhattan in 2024, while the series will shift to Tucson in 2025. The two teams have squared off a total of seven times with the last meeting being back in 1978, while Arizona holds a 5-1-1 edge in the series.
"We are excited to announce a home-and-home series with Arizona of the Pac-12 Conference," Currie said. "It is important for us to continue to schedule non-conference games with opponents that make sense for K-State, and we feel playing a nationally-recognized program like Arizona is a great opportunity for our program and the entire K-State Nation."
The agreement with Arizona continues a solid trend of marquee matchups for the Wildcats as K-State has already played recent series with Auburn (2007, 2014), UCLA (2009, 2010) and Miami (Fla.) (2011, 2012), while future series with Stanford (2016, 2021), Mississippi State (2018, 2019) and Vanderbilt (2017, 2020) have previously been announced.
The Wildcats, under hall of fame coach Bill Snyder, open the 2016 season on September 2 at Stanford on the heels of their sixth straight bowl appearance and riding a 27-game home sellout streak. The 2016 season will also mark the completion of Phase IIIB of the Bill Snyder Family Stadium master plan culminating $180 million in improvements to the stadium.
Upcoming K-State Football Non-Conference Opponents (all subject to change)
2016
Sept. 2 at Stanford
Sept. 10 BYE
Sept. 17 Florida Atlantic
Sept. 24 Missouri State
2017 (Five Home Big 12 games)
Central Arkansas
Charlotte
at Vanderbilt
2018 (Four Home Big 12 games)
Mississippi State
UTSA
Home TBD
2019 (Five home Big 12 games)
Bowling Green
at Mississippi State
2020
Vanderbilt
Buffalo
2021
Stanford
2024
Arizona
2025
at Arizona