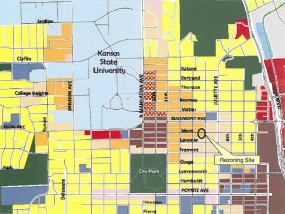 The cold didn't bother City Commissioners, as they gathered for their weekly meeting on Tuesday night.
Three items made the general agenda for the week with the primary focus being Fieldhouse Development's request for the rezoning of four residential areas in Manhattan.
The development group has hopes of constructing new apartments on several recently razed lots.
Assistant Director for Planning, Eric Cattell outlined the Fieldhouse proposal that would see a Single-Family Residential District with Traditional Neighborhood Overlay rezoned to a Multiple-Family Residential District with Multi-Family Redevelopment Overlay District.
The particular discussion is in regards to plans to construct apartments of an unspecified size on the properties of 917, 919 and 923 Thurston Street.
In addition a nearly identical proposal was brought forth to commissioners for a similar property at 801 Morro street.
An increase in noise, light and traffic to the area was presented to commissioners as a possible drawback of the rezoning, but it was noted that these factors would not be unusual for the makeup of the area and City Commissioners chose to approve the first reading of the ordinance requesting the rezone.
Changes in city election laws had City Commissioners weighing even more options.
Deputy City Manager, Jason Hilgers spoke of the changes, walking commissioners through the role of mayor in light of the changes.
The role must be filled annually.
Changes to laws related to city elections and governing body terms were made during the 2015 legislative session.
As a result of the modifications, the city must make changes to its ordinances relating to the
election and administration of the governing body
Commissioners approved the first reading of an ordinance to Amend City Code Section 2-12(b) of the Code of Ordinance – establishing city elections in November of odd-years, with Mayor Karen McCulloh voicing her frustration with the state capital for making the election month switch.