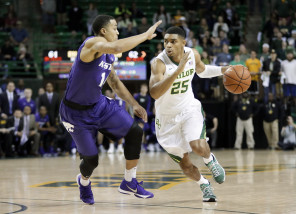 WACO, Texas (AP)– Al Freeman was scoreless in regulation, and Lester Medford just missed making a buzzer-beating winner for the second game in a row for No. 13 Baylor.
Still, the Bears extended their home winning streak to 15 games and moved into first place in the Big 12. It just took two overtimes against young Kansas State.
Freeman scored all 11 of his points in the extra periods, Medford hit the go-ahead free throws to start the second OT and Baylor won 79-72 after trailing by as many as 10 points before halftime Wednesday night.
"Winning close games makes the difference between good years and average or bad years," coach Scott Drew said. "Al hadn't played his best basketball, but at the end of the game he really came up big."
The Bears (15-3, 5-1 Big 12) have won five consecutive Big 12 games for only the second time in school history — after opening league play with a 102-74 loss at Kansas. They took over first place in the league after No. 6 West Virginia (15-3, 4-2) lost 54-49 at home to Texas earlier Wednesday.
Medford made two foul shots in the opening minute of the second overtime to put Baylor ahead to stay before Freeman added a driving layup.
Freeman, who was 0-for-5 shooting and scoreless in regulation, had seven points in the first overtime. But his potential game-winning jumper at the buzzer ricocheted off the back of the rim.
"The first 40 minutes, I was just struggling. I was really happy with how well my teammates were playing," Freeman said. "That just shows how deep our team is."
After a breakaway layup off the overtime tip, Freeman had another go-ahead layup and his 3-pointer with 37 seconds left put Baylor up 66-64. Wesley Iwundu had a follow-up basket for Kansas State with 8 seconds left to tie it.
Kamau Stokes scored 20 points to lead Kansas State (11-7, 1-5), which has six losses to Top 25 teams. D.J. Johnson had 11 points, and Iwundu scored 10.
"We've been there in a lot of the games. We just haven't found a way to win," coach Bruce Weber said. "We have to stay persistent. Good things will happen. I used the Chiefs analogy a couple of weeks ago. … Hopefully, we can respond like the Chiefs did and go win a bunch of games in a row."
Kansas City started the NFL season 1-5 before winning 10 games in a row to make the playoffs.
Taurean Prince had 19 points and 13 rebounds for Baylor, and Johnathan Motley added 15 points on 7-of-7 shooting. Rico Gathers scored 11.
The Bears led 59-57 after Prince made the first of two free throw attempts with 5.8 seconds left in regulation. K-State called timeout after Johnson's rebound.
Stokes went to the free throw line when Medford was called for a holding foul near midcourt before the inbounds pass. Stokes made both free throws to tie the game.
Baylor had one more chance in regulation but Medford, who hit the game-winning 3 at the buzzer in a victory at Texas Tech on Saturday, had his 15-footer bounce off the rim as time expired.
"It was a good look," Medford said. "Hit the back of the rim."