By Josh Brunner, K-State Athletics Communications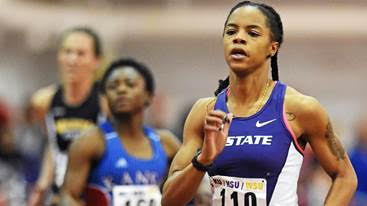 LAWRENCE, Kan. – Kansas State finished with 14 first-place finishes and senior Akela Jones was named high point scorer of the meet as the Wildcats finished in second place with a combined team score of 234 points at the KSU-KU-WSU Showdown on Friday.
Kansas went on to win the meet with a team score of 254 total points, while Wichita State finished in third place with a total team score of 203 points.
Jones continued her impressive run of form, winning both the long jump (6.50m/21-04.00), which set a new meet record and the 60 meter hurdles (8.25). She also finished second in the 200 meter dash with a time of 24.30 and fifth in shot put with a throw of 13.55m to earn high point scorer of the meet with 21 points.
On the track, sophomore A'Keyla Mitchell set a new meet record in both the 60 meter dash (7.37) and the 200 meter dash (23.95) in two-first place finishes, while fellow sophomore Terrell Smith finished first in the same events with a time of 6.78 in the 60 meter dash and 21.45 in the 200 meter dash.
Junior Adam Deterding record a first-place finish in the 60 meter hurdles with a time of 8.20, while senior Sonia Gaskin's mark of 2:12.85 in the 800 meter run earned her a first place finish in the event. The women's 4×400 relay team also recorded a first-place finish, beating out the Kansas team with a mark of 3:45.96.
In the field, freshman Zack Supple recorded his first first-place finish of his career and set a new personal best with a jump of 4.95m/13-03.50 in pole vault. Sophomore Christoff Bryan was the last man standing in high jump and finished with a mark of 2.20m/7-02.05 to take first in the event.
Junior Kimberly Williamson dominated in the women's high jump with a mark of 1.87m/6-01.50, while senior Alyssa Kelly took care of business in the triple jump with a leap of 12.32m/40-05.00. Thrower Dani Winters took first place in shot put with a throw of 17.11m/56-01.75, almost three meters better than the second-place finisher.
K-State returns to action on January 23 and 24 as it host the DeLoss Dodds Invitational. The event is set to be one of the biggest of the season, with 11 potential Olympians competing at the event. Stay tuned for more information on what will be a star-studded field.
For the latest on K-State track and field, follow @kstatesports and @KStateTF on Twitter using the hashtag #KStateTF or on Facebook.
KSU-KU-WSU Showdown
Anschutz Pavilion
Lawrence, Kan.
Akela Jones
High Jump – 6.50m/21-04.00
60 Meter Hurdles – 8.25
Shot Put – 13.55m/44-05.50
200 Meter Dash – 24.30
Claudette Allen
High Jump – 5.86m/19-02.75
60 Meter Dash – 7.85
Triple Jump – 10.46m/34-04.00
Zanri Van der Merwe
High Jump – 5.60m/18=-4.50
200 Meter Dash – 26.47
Sara Savatovic
Weight Throw – 20.44m/67-00.75
Janee' Kassanavoid
Weight Throw – 19.19m/62-11.50
Dani Winters
Weight Throw – 19.08m/62-07.25
Shot Put – 17.11m/56-01.75
Brady Grunder
Weight Throw – 19.55m/64-01.75
Kyle Smith
Weight Throw – 17.80m/58-04.75
Kim Williamson
High Jump – 1.87m/6-01.50
Rhizlane Siba
High Jump – 1.73m/5-08.00
Ifeanyichukwu Otuonye
Long Jump – 7.32m/24-00.25
4×400 – 3:19.72
Tom Pyle
Long Jump – 6.54m/21-05.50
Triple Jump – 12.59m/41-03.75
Adam Deterding
Long Jump – 6.50m/21-04.00
60 Meter Hurdles – 8.20
Tia' Gamble
60 Meter Hurdles – 9.53
600 Yard Run – 1:23.48
4×400 – 3:45.96
Simone Fassina
60 Meter Hurdles – 8.51
Pole Vault – 4.05m/13-03.50
Ranae McKenzie
400 Meter Dash – 56.64
4×400 – 3:45.96
Keiteyana Parks
400 Meter Dash – 57.35
4×400 – 3:45.96
Devie Freeman
400 Meter Dash – 49.73
4×400 – 3:19.72
Kaneil Harrison
400 Meter Dash – 50.76
4×400 – 3:19.72
Jordan Matthews
600 Yard Run – 1:28.22
Chris Sandquist
600 Yard Run – 1:15.15
A'Keyla Mitchell
60 Meter Dash – 7.37
200 Meter Dash – 23.95
Terrell Smith
60 Meter Dash – 6.78
200 Meter Dash – 21.45
Nick Albus
60 Meter Dash – 6.99
200 Meter Dash – 22.39
Alyssa Kelly
Triple Jump – 12.32m/40-05.00
Sonia Gaskin
800 Meter Run – 2:12.85
4×400 – 3:45.96
Marija Stambolic
800 Meter Run – 2:14.29
Blake Goodin
800 Meter Run – 1:57.84
Sam Oxandale
800 Meter Run – 2:00.08
Morgan Wedekind
Mile Run – 5:03.44
1000 Meter Run – 2:57.51
Kayla Doll
Mile Run – 5:14.16
1000 Meter Run – 3:07.06
Lukas Koch
1000 Meter Run – 2:30.06
Kurt Loevenstein
1000 Meter Run – 2:28.15
Zack Supple
Pole Vault – 4.95m/16-02.75
Christoff Bryan
High Jump – 2.20m/7-02.50
Nate Gipson
High Jump – 2.17m/7-01.50
Emma Wren
3000 Meter Run – 10:32.53
Amanda Thate
3000 Meter Run – 10:58.77
Brett Bachman
Mile Run – 4:24.67
Kain Ellis
Mile Run – 4:16.99
4×400 – 3:19.72
Jeff Bachman
3000 Meter Run – 8:43.53
Colton Donahue
3000 Meter Run – 8:41.69