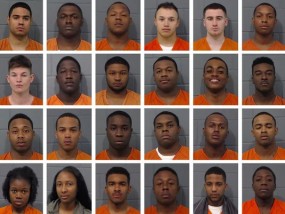 [Courtesy of the Army Times]
Police have dropped all charges against the 25 soldiers from Fort Riley, Kansas, who were arrested earlier this month at a house party.
The soldiers, who had faced drug and alcohol-related charges, still could be disciplined by their commanders.
"From our understanding, all charges have been dropped by police," said Master Sgt. Mike Lavigne, a spokesman for the 1st Infantry Division at Fort Riley. "There are still continuing investigations at the unit level, and those are handled individually on a case-by-case basis by commanders."
The incident happened Jan. 8.
Shortly before midnight, officers from the Grandview Plaza Police Department responded to a complaint about a loud party. A total of 27 people were arrested. Charges against them included misdemeanor possession of marijuana, criminal use of a weapon, hosting minors consuming alcohol, and unlawful noise, according to the police report.
The soldiers who were arrested were later released to their units.